The offensive performance of the first-grade Bobcats gave their team a 26-2 victory over the Dragons Saturday at the East Lawrence Center.
Bobcats head coach Reenie Stogsdill said she has watched her team get better since the start of the season.
"I think it's been fun because we can already see their improvement," Stogsdill said. "Each week they are catching on to something else."
The Bobcats played with a consistent offensive attack throughout the entire game. The team scored at least six points in all four quarters.
Forward Skylar Eklund led all scorers with eight points. Eklund used control while dribbling to run the court and score over the Dragons. His height allowed him to grab rebounds on the defensive side of the ball and then start fast breaks with quick outlet passing.
The Bobcats and Dragons played with two completely opposite offensive styles. The Bobcats chucked up shots from all over the court as soon as any team member was within shooting range.
Although the score may have favored the Bobcats, Stogsdill said she would like to see a slightly different approach to the game.
"I think we work on just learning the rules of basketball and improving and learning the team concep," Stogsdill said. "Trying to get them to pass to each other a little more than just can I shoot and can I score."
The Dragons used a passing-oriented attack to try to put points on the board. The Dragons were not afraid to make the extra pass to find the open man.
Dragons point guard Christopher Boyd set up many of the passes for his team's shots. Boyd has good dribbling skills and loves to pass the ball. Boyd took chances by throwing cross-court and no-look passes to his teammates.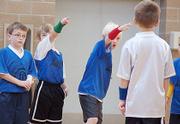 Dragons head coach Eric Neuteboom said he just wants to teach his players about the game of basketball throughout the season.
"The number one thing is just to have fun and hopefully give them some fundamentals that they can carry on if they keep playing basketball, and hopefully they will," Neuteboom said. "We'll teach them about dribbling, shooting and defense. All the basics."
After the game, the Dragons weren't very concerned with their fundamentals. They all sprinted to get their post-game doughnuts and to have some fun.
Copyright 2018 The Lawrence Journal-World. All rights reserved. This material may not be published, broadcast, rewritten or redistributed. We strive to uphold our values for every story published.