Syracuse, N.Y. — First Pitt. Then Kansas. Now Syracuse.
Beating big teams is getting to be old hat for Bucknell, which used its slowdown offense to rally past the 17th-ranked Orange, 74-69, on Tuesday.
"We never take the underdog role," said Kevin Bettencourt, who led Bucknell with 20 points and keyed a late 13-2 run that decided the game. "We think we can win every game."
And why not?
In January, Bucknell handed 10th-ranked Pitt its first loss of the season, also snapping the Panthers' 48-game home winning streak against nonconference teams. Then in March, they shocked the third-seeded Jayhawks, 64-63, in the first round of the NCAA Tournament.
Tuesday, it was the Orange's turn. Bucknell (2-0) won for the first time in nine meetings with Syracuse (3-2) and sent the Orange to their second straight loss.
And oh so deliberately. The Bison took only 17 shots in the second half, milking the clock on almost every possession, and missed just three times - an eye-opening 82.4 percent.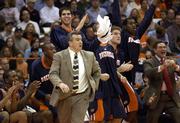 Charles Lee had 18 points, and Chris McNaughton had 15 points and 10 rebounds for the Bison.
Demetris Nichols led Syracuse with 19 points.
No. 3 Connecticut 79, No. 9 Arizona 70
Lahaina, Hawaii - Denham Brown scored 17 points, and Connecticut held Arizona without a field goal for a five-minute stretch of the second half in the semifinals of the EA Sports Maui Invitational.
The Huskies (3-0) will meet No. 8 Gonzaga in today's championship game.
Freshman point guard Craig Austrie had 15 points for Connecticut, while senior center Hilton Armstrong had a career-high 14 points.
Ivan Radenovic had 20 points and nine rebounds for Arizona (1-1), while Hassan Adams added 14 points.
No. 8 Gonzaga 109, No. 12 Michigan St. 106, 3OT
Lahaina, Hawaii - Adam Morrison set a tournament record with 43 points, and Gonzaga survived in the semifinals of the EA Sports Maui Invitational.
Michigan State's Maurice Ager tied it at 80 at the end of regulation with his fifth three-pointer over the final 7:10.
The second overtime ended with the officials putting 0.9 seconds back on the clock after a Michigan State turnover just before the buzzer, but Gonzaga couldn't take advantage.
Then, finally, Morrison made two free throws with 19 seconds left in the third overtime to give Gonzaga (3-0) the lead for good at 107-106.
No. 7 Kentucky 80, West Virginia 66
Kansas City, Mo. - Patrick Sparks scored 25 points and led an early 20-0 run that carried Kentucky in the consolation game of the Guardians Classic. Kevin Pittsnogle tied his career-high with 27 points and also had 10 rebounds for West Virginia.
No. 10 B.C. 92, Buffalo 63
Boston - Jared Dudley scored 20 points, helping Boston College (3-0) survive an off-night by preseason All-America Craig Smith, who had 12 points and four rebounds
No. 15 Illinois 93, Texas Southern 59
Champaign, Ill. - Dee Brown scored 14 points, and James Augustine added 13 for Illinois (3-0).
No. 23 Maryland 98, Chaminade 69
Lahaina, Hawaii - Chris McCray scored 17 points - nine in a 23-0 run in the second half - to lead Maryland (2-1) in the consolation round of the EA Sports Maui Invitational.
No. 25 Washington 90, Idaho 67
Seattle - Jamal Williams scored 16 points, and Brandon Roy added 14 for Washington (5-0).
Copyright 2018 The Associated Press. All rights reserved. This material may not be published, broadcast, rewritten or redistributed. We strive to uphold our values for every story published.