Lahaina, Hawaii — Kansas University's ship is sinking here off the shores of the Hawaiian Islands.
"It would have been a great trip if you win two here. Certainly we're going to have to fight our butts off to win one," KU coach Bill Self said after the Jayhawks' 65-64 loss to Arkansas on Tuesday in a second-round Maui Invitational basketball game in Lahaina Civic Center.
"If they are not down, their chest doesn't beat right. I'm sure they are down," Self said of the Jayhawks, whose loss to unranked Arkansas came on the heels of Monday's 12-point loss to No. 9-rated Arizona.
The setback dropped unranked KU to 1-2 overall for the first time since the 1987-88 national-championship season.
The two losses set up today's 6 p.m. seventh-place contest against NCAA Div. II Chaminade, the team no Div. I school comes to paradise to play - unless it's in the first round.
Photo Gallery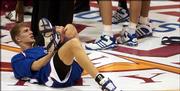 KU vs. Arkansas
Today's game will air on ESPNU, available locally on Sunflower Broadband Channel 141.
"This is the worst-case scenario for us, obviously to play in this game," Self said. "I'm disappointed about it. I'm sure our players are. We can't change it. We certainly better be ready to play."
The Jayhawks trailed Arkansas by eight points with 5:41 left, but grabbed a one-point lead on a three by Brandon Rush at 2:41.
They looked like they were in good shape with :26 left when Jeff Hawkins lobbed to C.J. Giles out of a timeout for a slam that gave KU a 64-63 lead.
Nothing went right the rest of the way, however.
The Jayhawks fell behind, 65-64, at :17 when Dontell Jefferson hit a shot at the free-throw line off a pass from well guarded Ronnie Brewer.
"The last play, C.J. did a good job on him," Self said of Brewer. "I'll have to look (at tape), but I bet we were ball-watching. The guard comes right to the top and makes (basically) a free throw."
Go figure
2 Points scored by Kansas from the free-throw line
10 Points scored by Arkansas from the free-throw line
6 Tipoff time (p.m.) for today's Kansas-Chaminade game for seventh place
What followed were 12 of the worst seconds imaginable. The Jayhawks' final two shots - by Jeff Hawkins and Russell Robinson - were blocked by Jefferson and Steven Hill.
"The last possession we did a poor job," Self said.
Here are the gory details:
At 12.4 seconds, the ball was inbounded to Rush out top. Rush, who scored a team-high 20 points, decided not to drive but pass to Hawkins in the corner. Hawkins' shot was rejected violently by Jefferson out of bounds.
"Brandon was supposed to make a play," Self said. "We ran a clear side for Brandon. We have not worked on it, obviously, enough. We came off unaggressive in that situation. They are trying not to foul. We came off and threw the ball to our point guard in the corner.
"It's my fault for not telling 'em, 'Drive it to score.'''
Rush, who hit eight of 10 floor shots, thought hard about driving.
"I was covered pretty good. Their big man stepped out. I saw the middle was crowded and passed to Hawk," Rush said, adding, "I think Hawk should have drove it."
The coach concurred.
"Jeff should have driven," Self said, "then we didn't run the out-of-bounds play right. We got a lob play out of bounds. We forgot what we were supposed to be doing."
Confusion reigned on the final play.
Hawkins inbounded to Robinson on the side, the 6-foot-1 Robinson having his desperation three rejected by 7-footer Hill as the clock ran out.
"It was supposed to be an alley-oop to C.J. (from Hawkins) but I guess he (Giles) didn't know what to do," explained Robinson, who helped bring KU back from the eight-point deficit by hitting a deep jumper, scoring off a steal and also dishing to Sasha Kaun for a layup.
"It was broken down. I had to get it off. I felt open. I had a 7-footer running at me. I shoulda drove it. His long arms got it."
Giles, who had 12 points and four fouls in 27 minutes, said somewhere along the line there was a failure to communicate.
"I knew it was a lob (call), but then I also heard, 'C.J. go screen; go screen,''' Giles said. "I went to screen for Russ. I guess we misunderstood what coach wanted us to do."
Self was philosophical about the miscues.
"We're just young, we make so many young mistakes," he said.
Three of KU's four freshmen played better than they did in the Maui opener.
Rush exploded for 20, while Mario Chalmers hit three of six threes and scored 11 points, while Julian Wright had four points and five rebounds in 21 minutes and was disruptive on defense in forcing several turnovers.
Micah Downs did not score, but did play some good defense on Brewer, who missed 14 of 21 shots en route to his 23 points.
"We did a lot of good things. We improved in game situations," Wright said. "We played hard. We always play hard in big games."
The hard work, however, was spoiled by the two blocked shots by Arkansas in the last 12 seconds.
"We showed a little guts We executed pretty well. We just didn't get the final play down," Robinson said.
"We were down 2 and took the easy way out," Wright said. "We could have been tougher and tried to get to the line. It's something to learn from."
KU, which led 15-8 early and 31-27 at halftime, will hope the learning experience in Maui will include a victory today.
Chaminade, which led Maryland by 11 in the first half before falling hard, 98-69, Tuesday, is 4-59 all-time in the Maui tourney.
"We didn't come here to play Chaminade. We came to win the tournament, to win the whole thing," Chalmers said. "Sometimes you win; sometimes you lose. You've got to keep your head and try to win the next one."
Copyright 2018 The Lawrence Journal-World. All rights reserved. This material may not be published, broadcast, rewritten or redistributed. We strive to uphold our values for every story published.