Salt Lake City — Deron Williams had 10 points and 10 assists for his second career double-double, helping the Utah Jazz snap a five-game losing streak with a 100-80 victory over the Milwaukee Bucks on Monday night.
Williams, the third pick in the NBA draft, and the Jazz spoiled former University of Utah center Andrew Bogut's return to the state, holding the top overall pick to eight points and seven rebounds.
Former Kansas University center Greg Ostertag and Kris Humphries each had 10 rebounds for the Jazz, who outrebounded the Bucks, 53-35.
Utah scored 100 points for the first time this season and won its first game since beating Toronto, 99-84, on Nov. 11.
Michael Redd scored 25 points, and T.J. Ford had 10 points and five assists for Milwaukee.
The Bucks finished a four-game road trip 1-3 and had little energy in the final period.
The Jazz were scoreless for a three-minute stretch late in the fourth quarter, but the Bucks managed just four points and failed to cut into Utah's 23-point lead.
Mehmet Okur scored 16 points, and Matt Harpring and Devin Brown each added 12. Brown's total was the highest since joining the Jazz as a free agent this summer.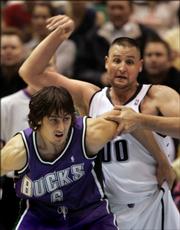 The Jazz, who were without Andrei Kirilenko (ankle), Keith McLeod (back) and Carlos Boozer (hamstring), relied on a young lineup that finally came together.
Williams, whose first double-double came Saturday in a loss to Memphis, was making his fourth start.
With Utah leading 66-46 in the third quarter, Williams threaded a pass from the top of the key to Harpring under the basket for an easy layup.
Bogut, who received a loud ovation from the crowd of 16,176 fans, cut the margin to 15 at 74-59 later in the third with a two-handed dunk on a missed layup by Bobby Simmons. Jiri Welsch made a free throw to get Milwaukee within 74-60. But Brown tipped in a rebound just before the buzzer, and the Jazz led, 77-60, at the end of three periods.
76ers 103, Hornets 91
Philadelphia - Playing despite flulike symptoms, Allen Iverson scored all 24 of his points in the first half and then happily sat out the fourth quarter as the Sixers beat the Hornets. Iverson, the NBA's second-leading scorer at 32.5 points per game, shot 8-of-22 from the field and had nine assists as Philadelphia snapped a two-game skid. It was the first time this season that he failed to score at least 25 points.
David West scored 20 points for the Hornets, who won their previous two games.
Spurs 96, Kings 93
Sacramento, Calif. - Tim Duncan had 22 points and 19 rebounds, Tony Parker scored 23, and San Antonio held off Sacramento for its fourth straight victory.
Parker and Duncan frustrated the Kings' defense, helping the Spurs win for the seventh time in eight games and improve to 9-2, the best record in the Western Conference.
Trailing by 17 early in the fourth quarter, the Kings finally got going. Mike Bibby led the comeback with 14 of his 33 points in the fourth.
Warriors 100, Nets 97
Oakland, Calif. - Derek Fisher scored nine of his 22 points in the fourth quarter, and Golden State snapped a five-game losing streak to New Jersey.
Jason Richardson added 25 points, and Baron Davis had 17 points and eight assists for the Warriors, who began a stretch with eight of nine games at home.
Richard Jefferson scored 23 for the Nets, who lost Vince Carter to a strained back muscle. They began a five-game road trip with their first loss to Golden State since a 105-97 defeat in Oakland on Jan. 23, 2003.
Copyright 2017 The Associated Press. All rights reserved. This material may not be published, broadcast, rewritten or redistributed. We strive to uphold our values for every story published.