London — HIV infection rates are starting to decrease consistently in some countries for the first time, indicating that prevention programs set up over the last five years are finally yielding results, the United Nations said.
However, the AIDS virus continues to expand its reach, with the estimated number of people living with the virus now passing 40 million, according to this year's AIDS epidemic update report, published Monday by the United Nations. That's an increase of some 900,000 cases over the estimate for the previous year.
AIDS has killed more than 25 million people since it was first recognized in 1981, making it one of the most destructive epidemics in history. An estimated 3.1 million people died from AIDS-related illnesses last year, and 4.9 million more people became infected with HIV, the virus that causes AIDS.
Only a handful of countries have made serious efforts to combat the disease, the report said. Worldwide, less than one in five people at risk has access to basic prevention services, and only one in 10 with HIV has been tested and made aware of the infection, the report said.
For the first time, though, there was evidence that increased efforts over the last five years have resulted in fewer new infections, UNAIDS chief Peter Piot said.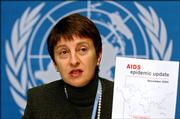 Previous improvements were considered exceptions, but falling infection rates among youths or pregnant women in several countries indicated a positive, overall trend.
"Now we have Kenya, several of the Caribbean countries and Zimbabwe with a decline," Piot said. "If you see a decrease in prevalence in young people, that reflects a decrease in recent infections."
For years, sub-Saharan Africa and the Caribbean have been the two regions with the highest rates of HIV infection, and the epidemic continues to intensify in much of southern Africa.
It is also expanding in Eastern Europe and Central and East Asia, where intravenous drug use and commercial sex are prevalent. Five years ago, one in 10 new infections was in Asia; today the rate is one in four or one in five.
Copyright 2018 The Associated Press. All rights reserved. This material may not be published, broadcast, rewritten or redistributed. We strive to uphold our values for every story published.