Lahaina, Hawaii — The fact unranked Kansas University lost to ninth-ranked Arizona on Monday at the Maui Invitational shocked nobody in the college basketball world.
The way the Jayhawks played, particularly on the offensive end in a 61-49 setback, classified as a puzzling effort in paradise, to say the least.
"This certainly is not what we expected coming over here. I can handle losing, getting beat. I don't think we gave it our best shot tonight," KU coach Bill Self said after Kansas had 27 turnovers and hit just 33.9 percent of its field goals.
The Jayhawks -- who last were held under 50 points in a 64-49 loss to Long Beach State on Jan. 25, 1993, in Lawrence, and last committed as many turnovers against Arizona State in 1997 -- were paralyzed by Arizona's pressure early, coughing it up nine times in falling behind, 20-4, just 8:13 into the game.
KU came all the way back, tying the score at 41 with 11:32 left, but two consecutive Mario Chalmers turnovers led to two easy Arizona baskets, boosting Arizona's 46-43 lead to 50-43 at 6:56.
Senior guard Jeff Hawkins was out of the game at that time, falling victim to cramps which also plagued the Jayhawks here in 2001.
"We were bad the whole game, especially bad early," Self said, saying the only positive of the evening was the fact the Jayhawks "didn't quit."
Photo Gallery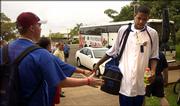 KU vs. Arizona
"It was our rebounding, certainly our ability to pass, catch and dribble. We handled the ball miserably against pressure even when there wasn't (pressure).
"A lot of our mistakes were ballhandling jitters. I knew we'd be nervous. I didn't think it'd be like this. That was miserable execution offensively," Self added.
The worst part for the coach and his players was the fact the Jayhawks apparently ran their own plays, not running what was drawn up prior to the contest.
"We lost our poise, never executed, never did what we were supposed to do all night long," Self said.
Hawkins noticed and as a senior leader was upset about that fact.
"We didn't do what coach said. It's what he said (after the game), and there's truth in it. A lot of guys were trying to do their own thing, myself included," Hawkins said.
"We didn't execute, didn't run our stuff, didn't pay attention to detail. Obviously we need to pay better attention to him and take things a little more seriously."
Sophomore C.J. Giles, who had just two points, said, "I don't know if it was nerves or what it was, but we didn't do what we were supposed to do. "
Photo Gallery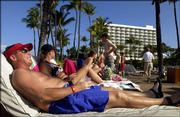 Crimson and Blue Hawaii
Jayhawk fans left cold Kansas to see KU play Arizona in sunny Hawaii in the Maui Invitational. The Jayhawks lost, but the Hawaiian Islands offered some distraction from the disappointment.
Micah Downs and Sasha Kaun had five points apiece in a 19-8 run that cut Arizona's early 20-4 lead to 28-23. Never ahead the entire game, KU finally tied it at 41.
"We tied it, then we went braindead," Self said.
First, Kirk Walters, who tied Mustafa Shakur for high-scoring honors with 13 points, scored.
KU then had possessions in which Chalmers missed a shot, Russell Robinson had a shot blocked and Brandon Rush missed a three and a breakaway dunk opportunity -- preceding the two Chalmers turnovers.
"I don't know if those were the two most important possessions of the game," Self said. "They were big possessions. They were big (turnovers), but we still had opportunities, missed free throws. It was a total team effort, coaches, players. We got exposed tonight."
Arizona's best player, Hassan Adams, does not buy into the argument KU played a horrendous game.
"They have a young team that was very active. They just played hard out there," said Adams, who, harassed by Rush, Hawkins, Downs and Giles, missed 13 of 16 shots and had just 10 points. "They didn't let up. We played their game, too."
Self, whose Jayhawks play in today's 3 p.m. consolation-round game, hopes his ballyhooed freshmen step up their games. Rush led the group with 11 points. Chalmers had seven turnovers. Downs had five points and Julian Wright two.
"These freshmen will have their ups and downs," Self said. "Hopefully they will learn from this. They have had an easy path thus far. They haven't been exposed. The media has kind of fallen for them. We'll see how they respond to it."
Giles believes the Jayhawks will respond today.
"The next game I'm going to come out and be a dog," Giles said. "Our whole team has to."
Copyright 2017 The Lawrence Journal-World. All rights reserved. This material may not be published, broadcast, rewritten or redistributed. We strive to uphold our values for every story published.