Kansas City, Mo. — So far, the formula is simple: When LaMarcus Aldridge hits double digits in points and rebounds, Texas wins.
His career-high 14th rebound and final basket Monday night couldn't have come at a better time for the second-ranked Longhorns, either.
Aldridge made a putback with 3.6 seconds left and blocked a last-second shot, lifting Texas to a 76-75 victory over No. 13 West Virginia in the semifinals of the Guardians Classic. It was his third double-double in as many games this season.
"I don't remember anything but getting the basketball and going up," said Aldridge, who finished with 15 points.
Daniel Gibson hit six three-pointers and scored 20 points to lead Texas (3-0), which will meet No. 18 Iowa in tonight's championship game. The Hawkeyes beat No. 7 Kentucky, 67-63.
P.J. Tucker added 19 points for the Longhorns.
Texas, which trailed by 10 early in the second half, went up 72-71 on Kenton Paulino's three-pointer with just over two minutes left. But Frank Young answered with a basket 25 seconds later, and Mike Gansey hit a layup with a minute to go, giving West Virginia a 75-72 lead.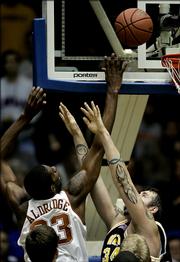 After the Mountaineers' Johannes Herber and Kevin Pittsnogle missed the front ends of one-and-one opportunities, Tucker's follow shot got Texas within 75-74 with 15.4 seconds remaining. Pittsnogle missed another one-and-one with 14.7 seconds to go, and Aldridge converted after misses by Paulino and Brad Buckman.
After his game-winning putback, Aldridge blocked a last-second layup attempt by Gansey, who led the Mountaineers (2-1) with 28 points.
Replays appeared to show Aldridge leaving his feet and making contact, but no foul was called.
"The referee made the right call," Gansey said.
Texas coach Rick Barnes said there was no foul.
"I saw it. It was a clean block," Barnes said. "There's no need to talk any more about it."
Colorado St. 83, Colorado 82
Fort Collins, Colo. -- Sophomore Sean Morris scored a career-best 34 points and his older brother, senior Michael Morris, sank two critical free throws with 10 seconds left for Colorado State (2-0). Martane Freeman's 17 points off the bench led the Buffs (1-1), who saw a 74-66 lead with 71/2 minutes left fritter away.
Copyright 2018 The Associated Press. All rights reserved. This material may not be published, broadcast, rewritten or redistributed. We strive to uphold our values for every story published.