Robert Aguirre planned to be waiting in line at a video game store late Monday night, waiting for the clock to strike midnight. That's when the next generation of Microsoft's Xbox - the Xbox 360 - went on sale.
Aguirre already has ordered the new game console from a GameStop outlet. "This is even better than the (original) Xbox," said Aguirre, who's tested the 360 at GameStop. "It's like night and day."
Microsoft Corp. is banking on such sentiments to help it win a war: the battle to dethrone Sony Corp. and its reigning PlayStation game console.
It is a high-stakes affair. Microsoft is hoping that by getting a jump on Sony - the PlayStation 3 isn't due for several months - it can gain share and finally put the money-losing Xbox on the path to profitability.
Sony, meanwhile, is defending a profitable and important niche. Video games have been a buffer against hard times in Sony's other consumer electronics lines, including televisions.
Microsoft "has a good chance with this system," said Aguirre, who also has a PlayStation 2 and plans on buying Sony's next edition. "It all depends on what Sony has up its sleeve. We'll have to wait and see."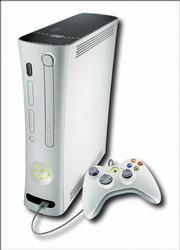 Sony's PlayStation 2 has dominated the console market since its introduction in 2000. It had about 43 percent of the U.S. market last year, compared to 19 percent for the Xbox and 14 percent for Nintendo's GameCube, according to JupiterResearch.
Nintendo, too, has a new console coming out next year, dubbed "Revolution."
Each console maker knows that a new hardware cycle levels the playing field, at least temporarily. And they know that enthusiasts like Aguirre determine whether their wares will get off to a fast start.
They are the ones who'll drop $399 for an Xbox 360, or $299 for the stripped-down Xbox 360 Core. (The former includes a wireless controller and 20-gigabyte hard drive.)
"It's pretty much the hard-core enthusiast crowd that will go for it this holiday season," said David Cole, an analyst with video game researcher DFC Intelligence in California.
Gaming Web sites are full of Xbox chatter.
"It's always exciting when a new system comes out," said Aguirre, a 36-year-old carpenter who lives in Chicago's Bridgeport neighborhood. "You always want to see what they make better, and they always amaze me how they do it."
The new crop of consoles goes beyond gaming by featuring music, movie and photo capabilities. But for gamers, what really matters is that they have more computing power, which makes for splashier games with sharper graphics.
Games equal profits
In video game industry economics, profits are in the games - the software - much more than in the consoles. A console maker's goal is to at least break even on the boxes.
The bulk of the software profits come in two ways. First, console makers have their own self-produced games. For instance, Microsoft's "Halo" game has been a huge seller that has helped move Xboxes.
Second, independent game makers - like Chicago-based Midway Games - must pay a licensing fee to console makers for every game disc they produce.
Nintendo, though it's third in market share, still makes solid profits because it develops a lot of its own games - iconic franchises like "Mario" and "Zelda," said Chris Kwak, an analyst at Susquehanna Financial Group in Pennsylvania.
Sony's strength, meanwhile, is its leading market share, or as Kwak said, its huge "installed base" of consoles. All those consoles require lots of games, which means lots of licensing revenue from independent game makers.
And the more market share a console maker grabs, the more incentive game makers will have to produce software for that console.
Microsoft is betting that by being first to market with the Xbox 360, it will grab business from Sony. The original Xbox came out in late 2001, more than a year after PlayStation 2, a gap Microsoft believes hurt it.
Shooting for first
Being first this time "is very important," Kwak said. "That's enough to get more market share this time around."
Of course, whether it will be enough to turn the Xbox into a moneymaker for Microsoft remains to be seen. Kwak said profitability may still be a few years away.
But Microsoft has shown a lot of patience with Xbox.
"The first generation of the Xbox was a learning proposition and they knew it would be a learning proposition," said Michael Gartenberg, a consumer electronics analyst with JupiterResearch. "When you've got a $45 billion war chest and you're willing to be patient, there's a lot of opportunity."
Gaming attracted Microsoft for a couple of reasons. First, console-based gaming is a fast-growing business, and it's a big market with about $9 billion in U.S. sales, according to Jupiter.
Second, gaming is important for Microsoft's goal of becoming a hub for home entertainment, Kwak said.
"They own the PC," Kwak said, "but they have to get into consumer electronics."
Still, even if Microsoft fails to make a big leap with the Xbox 360, it won't be as bad off as Sony will be if PlayStation 3 loses significant ground to the Xbox, several analysts say.
Microsoft's home and entertainment sector, which is largely Xbox-related, normally makes up about 8 percent of the company's revenues, and of course loses money.
At Sony, gaming accounted for 13 percent of sales in Sony's most recent quarter. More important, gaming is "an important profit center," said analyst Cole.
In the console war, "the stakes are higher for Sony," Cole said. "They have more to lose. They have nowhere to go but down."
Copyright 2018 The Lawrence Journal-World. All rights reserved. This material may not be published, broadcast, rewritten or redistributed. We strive to uphold our values for every story published.