Bonner Springs — Bruce Breslow shot marbles on the playground growing up, like most kids in the '50s and '60s.
He played for keeps, and he didn't keep very many.
Eighteen worn marbles now sit on a shelf in his workshop. They're the ones he salvaged from his parents' home, the limited bounty he collected from his boyhood days.
"I guess I wasn't very good," he said. "That's where the term 'losing your marbles' came from."
These days, Breslow has plenty of marbles.
For eight years, he's owned Moon Marble Co., which makes custom handmade glass marbles and also sells mass-produced factory marbles, marble games and a variety of other quirky retro items.
The company, tucked inside a former potato wash house along the railroad tracks in Bonner Springs, has become a marble mecca of sorts for area collectors.
"They're quite beautiful," said Rick Daniels, a Lawrence resident and marble collector. "They're little pieces of art. It takes an amazing amount of skill to make those things."
Tourist spot
Breslow, 53, used to make and sell wooden game boards. But he always had trouble finding marbles used to play the games.
Photo Gallery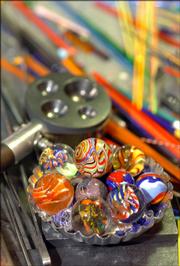 Moon Marble
So he decided to get into the marble business. The first shipment he received in 1997 had 85,000 marbles.
He still makes and sells the game boards. They include marble bowling, Chinese checkers, wahoo and tic-tac-toe.
The Moon Marble Co., at 600 E. Front St. in Bonner Springs, will see about 12,000 visitors on tours this year. Breslow does most of his marble-making in front of a crowd.
"We have a lot of kids come," he said. "We have a lot of grown-ups who played marbles when they were kids and they want to see what it's all about. A lot of people think it's a marble factory. It's not a marble factory. We make them one at a time."
The store includes a marble ring where employees teach visitors how to "knuckle down" with their shooters and play marbles.
Breslow said the shop sparks a lot of memories for those who grew up with marbles.
"It's the connection to the past," he said.
'Lot of work'
Think of a color combination, imagine a design, and Breslow has probably made a marble with it.
He figures the sketchbook by his chair at home probably has 10,000 designs in it.
"They come to me in my sleep," he said. "As an artist, you have more ideas than time to do them."
Most of the marbles are made by melting and combining imported Italian glass over a torch, with special care to make them perfectly round. If they're not round, they won't sell.
Some of the marbles incorporate shapes. A popular one this time of the year has a Christmas tree and candy cane imbedded inside.
During a recent demonstration in front of an Overland Park Girl Scout troop, he described the consistency of molten glass as "having a glob of honey between two chopsticks." It took about 20 minutes to finish one marble.
"That's a lot of work," one girl commented.
But Breslow said it's worth the effort.
"To make a handmade marble, it takes a long time," he said. "As an artist, you find things that work for you. If they don't work, you don't do it or you find a way to make it work."
Not toys
While the mass-produced marbles can sell for $3.50 a pound, the handmade varieties start at around $20 and can go for much more.
"We have to make them as art glass forms," Breslow said, "not as toy marbles."
And that makes collectors like Lawrence resident Daniels more like art patrons than marble-shooters.
Daniels said he has about 3,000 marbles and has been known to spend upward of $100 on one of Breslow's marbles.
"You take really good care of them, to protect them from scratching," Daniels said. "We get them out every so often and look at them. We like to show them to people."
Copyright 2018 The Lawrence Journal-World. All rights reserved. This material may not be published, broadcast, rewritten or redistributed. We strive to uphold our values for every story published.