Green Bay, Wis. — Minnesota's offense isn't dead. With the steady hand of Brad Johnson, neither is the Vikings' season.
For the second time this year, Paul Edinger kicked a winning field goal against Green Bay, a 27-yarder as time expired that gave the Vikings a 20-17 victory Monday night and kept their playoff hopes alive.
After struggling mightily on offense since quarterback Daunte Culpepper was lost for the season, the Vikings put together a solid showing behind Johnson with 196 yards passing and running back Mewelde Moore, who had 122 yards on 22 carries.
The 37-year-old Johnson set up Edinger's kick with a nine-play, 58-yard drive in the final three minutes and three seconds after Green Bay tied it at 17.
Minnesota coach Mike Tice shuffled his offensive line this week hoping to inject some life into the offense that totaled 137 yards last week against the Giants. He started 380-plus-pound Toniu Fonoti at left guard and Cory Withrow at center. It worked, for the most part.
"We lost our first two offensive linemen," Moore said. "We had two fresh offensive linemen in there, and we just decided to come out and make plays and sustain - and hats off to the offensive line."
Johnson was sacked five times, fumbling twice, and Minnesota couldn't muster much offense in the first half. But just like last week - when the Vikings returned a punt, kickoff and interception for touchdowns - they found other ways to score.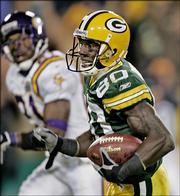 With Green Bay driving, Dovonte Edwards intercepted Brett Favre's pass and returned it 51 yards for a touchdown with a little more than a minute left in the first half.
"It was exciting," Edwards said. "I had a dream actually last night that I would do something big today, and it came true. Mike Tice said you need to dream, dream about making plays, and that's what I did last night, and it happened for me tonight."
The play was reviewed after Edwards and intended receiver Andrae Thurman crashed to the ground at the same time. But officials ruled Edwards was not down by contact before he got up and scored.
Favre atoned for the mistake seconds later, hitting Donald Driver for a 53-yard touchdown pass after the receiver beat defensive back Antoine Winfield and outran former Packers safety Darren Sharper. Green Bay led, 14-7, at the half.
The Packers couldn't capitalize on Johnson's fumble early in the third quarter and were forced to punt, pinning the Vikings at their own 12. Minnesota then put together its best drive of the game, aided by two defensive penalties inside the Green Bay 10-yard line.
The second, a pass-interference call in the end zone, put the ball at the one-yard line. Ciatrick Fason plunged into the end zone on his second attempt - Minnesota's first offensive touchdown in nine quarters.
Copyright 2018 The Associated Press. All rights reserved. This material may not be published, broadcast, rewritten or redistributed. We strive to uphold our values for every story published.