The president of a Lawrence-based technology company is in line to serve another four years on Kansas Inc., an organization focused on compiling nonpartisan information to help businesses locate and grow throughout the state.
Donna Johnson, president of Pinnacle Technology Inc., is one of two Kansas Inc. board members chosen by Gov. Kathleen Sebelius for reappointment. The other is Wil Leiker, executive vice president of the Kansas AFL-CIO in Topeka.
Sebelius also announced the appointment of a new member: John Pilla, vice president and general manager-787 for Spirit Aerosystems Inc. in Wichita.
All three appointments are up for confirmation Nov. 30 by the Senate Interim Committee in Topeka, and Sebelius is confident that her choices would help continue the state's economic momentum, including 20 consecutive months of job growth.
"Our investments in a well educated work force and high-tech industries will be key to our continued success, which is why the work of Kansas Inc. is so important," Sebelius said in a statement.
Johnson joined the board last year, and has watched as the organization's mere existence has been placed in jeopardy. In March, the Kansas Senate approved a bill that would have abolished Kansas Inc. and turned over its responsibilities to the Kansas Department of Revenue and the Division of Legislative Post Audit.
The bill was referred to a House committee for review but did not make it to the full House for a vote. The bill would have stripped Kansas Inc. of one of its statutory responsibilities: reviewing the appropriateness of tax credits.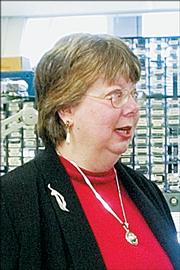 In her Lawrence office Monday, Johnson said that the organization was gaining momentum under its president, Stan Ahlerich, and work contracted through Kansas University's Policy Research Institute.
Some of the most basic work looks at economic variables in Kansas, Johnson said, and compares them with data from six surrounding states.
"We're trying to build the organization and the value that it has for the state for long-term economic planning, so it becomes a valuable resource once again," said Johnson, whose own company is working on extending three tech contracts of its own. "We're trying to bring it back to the point where it's one of the places people want to turn to, and just put out some really high-quality information for when they're making decisions."
Copyright 2018 The Lawrence Journal-World. All rights reserved. This material may not be published, broadcast, rewritten or redistributed. We strive to uphold our values for every story published.