New York — R&B; singer Usher makes his big-screen debut as a leading man with the romantic comedy "In the Mix."
The 27-year-old Usher plays Darrell, a playboy New York City disc jockey who falls in love.
Not only is he the star, he's the executive producer. Usher, whose 2004 album "Confessions" was a huge commercial and critical success, talked with The Associated Press about the movie and why he plans on staying single.
Q: Why did you choose "In the Mix" for your first leading role?
A: I took a look at the type of black films and multicultural films that had come out, and I wanted to do something that would cater to the demographic of people that I have been introduced to and my fan base. That's basically 5-year-olds all the way up to 67-year-olds. During this season it would be the type of movie that everybody would be a part of.
Q: Do you think "In the Mix" is the type of story that hasn't been told before?
A: To an extent that there have definitely been films heading in this direction for a black character, for the film to be focused on the black character. To make one comparison, "A Bronx Tale." The fact that the story was based on race and this one is based more on the politics and the logistics as to how the mob really works and what goes on as well as the fact that love is colorless. You have a fly-guy, 26-year-old playboy. He didn't know what he was getting himself into, but it had everything to do with family and his family values and what he felt like he owes the Pacelli family. I think this says a lot about us as black Americans and the views of Italian-Americans.
Q: Your co-star Chazz Palminteri often plays in mob films. What did he teach you about the mob?
A: We had a conversation about the elbow talk. You know you're in trouble when a mobster or someone in the family gives you the elbow walk. They grab you by the back of the elbow and they guide you.
Q: What message do you want people to walk away with after seeing "In the Mix"?
A: The moral of this story is life is what happens when you are making other plans. Two, love is colorless.
Q: Are you hesitant to have fans see you on the big screen in an interracial relationship?
A: First of all, more than anything (the film is about) two people from two different worlds. I don't know anything about an interracial relationship because I don't go in it as a person who interested in her as a relationship. My character and her character fall in love with each other. It turns into, "Can we tell anybody?" It doesn't start out like that.
Movie
In the Mix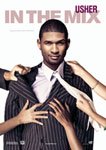 When an African-American man accidentally saves a mob boss's life, his reward is a job protecting the don's daughter. Complications arise when the two begin to fall in love.
Get movie listings, reviews, and more at lawrence.com
-->
-->
Q: You also executive-produced "In the Mix." How much creative control did you have?
A: Well, I didn't put money behind it. That title comes from being involved in the creative process from choosing the people to act opposite, script supervision, selecting people who are a part of the production team. It's pretty easy. The character was pretty much at a place where I could put myself in it. A lot of times we would work on a scene and there was basically improvisation and (we would) create the scene. Most of the glue was already there.
Q: Your character is a playboy who falls in love. Is art going to imitate life?
A: No. I like being a playboy. 2004 and 5 have been definitely a very, very hectic time for me. That's probably the reason why it is better for me to stay single because I am never home. Part of being in a relationship, you've got to have time.
Copyright 2018 The Associated Press. All rights reserved. This material may not be published, broadcast, rewritten or redistributed. We strive to uphold our values for every story published.