Sometimes you've just got to forget all your troubles and buy some shoes.
At least that's what the American consumer appears to be thinking right now.
For the past two months, sales of shoes have been up sharply, for a host of reasons. Department stores, specialty chains, high-end retailers and low-end retailers are all reporting big sales increases, often in the double digits.
At Hecht's, shoes have surged into a top seller for the chain. At Wal-Mart, executives say footwear is doing well "across all categories." At the lower-priced chain Shoe Carnival, October brought a record sales gain of 21 percent. Some independent shoe stores are feeling the frenzy as well.
"This is a record October-November, so far," said David Levy of Hawley Lane Shoes, which has three stores in Connecticut.
As with any fashion business, shoe sales are cyclical, but industry experts say it takes a confluence of factors to send the category soaring the way it has been recently. A lot of new fashion trends are hitting the industry right now, such as fancy decoration and a Western theme, that consumers like.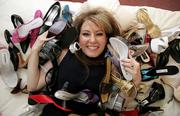 Retailers, at the same time, are keeping their prices down because of overseas production. And finally, women seem to be in the mood to buy. Shoes sales have been strong for men and women, but it is women who are driving the numbers.
Nothing gets a woman more excited than a shoe that is like an exclamation point to an outfit, said Matthew Rubel, president of lower-priced chain Payless ShoeSource Inc., the nation's largest shoe store chain, where sales were up 4 percent in October.
"Footwear has a natural emotional place in a woman's mind," he said. "That's being expressed more in product today through color, through silhouette, through material, through novelty."
In other words, women have always gotten excited about shoes, but now there's something to get excited about. And it's across all price categories.
Chains such as Topeka-based Payless are "getting the fashion trends in footwear available at one-fourth the price," said Marshal Cohen, senior industry analyst for market research firm NPD Group Inc.
Footwear sales figures from the Commerce Department show steady monthly increases over the previous year, starting in June, after about a year of mostly flat sales. The average increase for the three months ending in September was 4.5 percent.
In October, according to the International Council of Shopping Centers' chain store index, sales at shoe stores were up 7.3 percent - the second-highest retail category after wholesale clubs, such as Costco. Retailers say the strong sales have been continuing into November.
Copyright 2018 The Lawrence Journal-World. All rights reserved. This material may not be published, broadcast, rewritten or redistributed. We strive to uphold our values for every story published.