Jerusalem — Israeli Prime Minister Ariel Sharon took back the initiative from the rejuvenated Labor Party, quitting the Likud Party he himself founded in 1973 and striking out on his own - a daring pre-emptive strike before elections set for days after his 78th birthday.
Fed up with internal Likud opposition after he completed his withdrawal from Gaza, Sharon informed Likud leaders late Sunday that he was leaving to set up his own movement. It was the latest turnaround for the former general, hawk and settlement builder who jettisoned his record of decades and gave Palestinians control of part of their territory this year.
Sharon's master stroke came just hours after Labor, following the lead of its fiery new chairman, Amir Peretz, voted to leave the coalition government it entered in January to assure support for the Gaza withdrawal.
The prime minister's exit leaves Likud as a bastion of hardline opponents of compromise with the Palestinians. Weekend polls show that position will erode support for Likud, while Sharon's new party would do well in the upcoming vote, as would Labor under its new leadership.
Advancing Israel's election from the original November 2006 date would likely sideline Mideast peace moves and counter whatever momentum was gained from the withdrawal from Gaza and part of the West Bank, completed in September.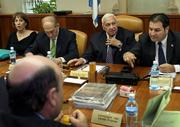 Sharon is expected to take several prominent Likud Cabinet ministers with him into his new party, along with some from Labor - possibly including the ousted chairman Shimon Peres.
Sharon's Gaza pullout, a dramatic about-face after decades of settlement building and expansion in the West Bank and Gaza, fractured his party.
Today, Sharon is to ask Israel's president to disperse the parliament, setting in motion a process leading to elections in March, Army Radio reported. Sharon, who turns 78 on Feb. 28, has made no formal announcement.
"I regret Sharon's decision to leave and would have preferred that he continue his struggle within Likud," said Ehud Yatom, a Likud member of parliament who was among the leaders of the internal rebellion against Sharon.
Separately, Palestinians are concentrating on their own parliamentary election, set for Jan. 25, with the violent Islamic Hamas running candidates for the first time and posing a significant challenge to the ruling Fatah Party of Palestinian leader Mahmoud Abbas.
Fatah primary elections began Saturday in the desert oasis of Jericho, and as expected, Palestinian negotiator Saeb Erekat won the nomination for the town's only seat, election officials said Sunday.
Copyright 2018 The Associated Press. All rights reserved. This material may not be published, broadcast, rewritten or redistributed. We strive to uphold our values for every story published.