Tehran, Iran — Raising the stakes before a key vote by the U.N. nuclear agency, lawmakers approved a bill Sunday requiring the government to block inspections of atomic facilities if the agency refers Iran to the Security Council for possible sanctions.
The bill was favored by 183 of the 197 lawmakers present. The session was broadcast live on state-run radio four days before the International Atomic Energy Agency board considers referring Tehran to the Security Council for violating a nuclear arms control treaty. The council could impose sanctions.
When the bill becomes law, as expected, it likely will strengthen the government's hand in resisting international pressure to permanently abandon uranium enrichment, a process that can produce fuel for either nuclear reactors or atomic bombs.
The United States accuses Iran of trying to build a nuclear weapon. Iran says its program is for generating electricity.
The bill now will go to the Guardian Council, a hard-line constitutional watchdog, for ratification. The council is expected to approve the measure.
"If Iran's nuclear file is referred or reported to the U.N. Security Council, the government will be required to cancel all voluntary measures it has taken and implement all scientific, research and executive programs to enable the rights of the nation under the Nuclear Nonproliferation Treaty," lawmaker Kazem Jalali quoted the bill as saying.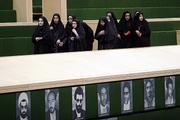 Canceling voluntary measures means Iran would stop allowing in-depth IAEA inspections of its nuclear facilities and would resume uranium enrichment. Iran has been allowing short-notice inspections of those facilities.
Iran resumed uranium-reprocessing activities - a step before enrichment - at its Isfahan Uranium Conversion Facility in August. It has said it preferred a negotiated solution to begin uranium enrichment.
The United States and Europe want Iran to permanently halt uranium enrichment.
But Iran says the Nuclear Nonproliferation Treaty allows it to pursue a nuclear program for peaceful purposes, and it will never give up the right to enrich uranium.
"Through this bill, we are declaring to Europe that referring Iran to the U.N. Security Council means Europeans are pushing the region toward a crisis," Jalali told the chamber before the vote.
"If it happens, it will impose a heavy cost on the world, the region and European countries themselves."
Copyright 2018 The Associated Press. All rights reserved. This material may not be published, broadcast, rewritten or redistributed. We strive to uphold our values for every story published.