Horton — The thud of ears of corn hitting the bangboard of his father's wagon has stuck with Don Werner for more than half a century.
"I always remembered that because I was always sitting there or laying inside (the wagon)," he says. "I always rode with him and was just amazed watching him shucking that corn."
The Powhattan farm boy vowed that he, too, would have his own wagon someday.
"That always kind of stuck with me," Don Werner says. "I couldn't ever afford to buy one or find one that I thought I would like, so I just built it."
And so a simple desire became a hobby, which later evolved into Werner Wagon Works, which he and his wife, Connie, have operated for 18 years from their home in Horton.
"He said that sound never left him," says Connie Werner, describing how the couple began a trade that only a handful of people in the United States practice.
Another sound - a whirring buzz saw - runs in the adjacent workshop, where footprints dance over the sawdust-covered floor.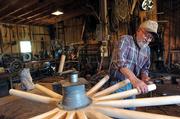 It all began on a trip to Branson, Mo., when the couple met a blacksmith displaying his trade at Shepherd of the Hills.
"We stayed and talked to him for hours," Connie Werner says.
The blacksmith, who also was a wheelwright, later showed Don Werner the wagons he had.
Seeing his interest, he said, "If you really want to learn, go to the Amish, up in Springfield."
So they went and spent a day with the people whose way of life depends on the animal-driven vehicles.
It didn't take long for Don Werner, an electrician, to glean what he could from the Amish. In 1988, he made his first wagon using tools bought at various sales and given to him by friends and family.
"A lot of the tools (we use) are just like what they would've had in the 1800s," says Connie Werner, standing in the wheel shop, which is like a portal back to that time.
"In fact, those tools last a lot longer than the modern ones," she says. "They're more dependable, they're stronger, they don't break down as easy."
Lots of demand
After Don Werner built his first wagon and won the grand prize at a wagon show in Marysville, word of his work began to spread.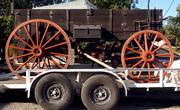 He was still working as a commercial electrician, commuting to and from Kansas City each day and working in his shop at night when the National Oregon/California Trail Center in Montpelier, Idaho, contacted him to make wagons for its living history museum.
A leave of absence and seven wagons later, he began building wagons full time.
Today, Don Werner estimates that he has produced roughly 180 to 200 wagons for customers in 40 states, Canada and Japan. In between his wagon making, he also restores various horse-drawn vehicles and makes and repairs wheels.
In the old days, the top of a wagon, or box, was typically made out of poplar, but today, Don Werner uses oak. He uses hickory wood, which has a straight grain, in his wagon wheels because of its flexibility over rough terrain.
"We like to start building the wheels first, then the undercarriage or the running gear, so we can build the box on top of that," Don Werner says.
The Werners have taken their wagons on several wagon trains over the years.
"When we go on these, we travel virgin prairie over the actual trails," Connie Werner says.
There and at various wagon and buggy shows, they have met like-minded historians, including John McCoy.
"After going on a wagon train and jacking the wagon up every 30 miles to grease the hubs," Connie Werner says, "we were talking about there has to be an easier way so you don't have to take the wheel off."
The Real McCoy
The Werners and McCoy put their heads together and the Real McCoy hub insert was born.
"I told them that there was an easier way to do that," says McCoy, who used to restore and build stagecoaches. "(The insert) goes in the hub and we put tapered roller bearings in it."
The bearings are pre-greased, he says, preventing constant stops and awkward wheel removal along the prairie.
In addition to experiencing the trials of vehicle maintenance on the open trail, the Werners also have witnessed the trauma of wheel breaks, wrecked stagecoaches and skittish horses.
Connie Werner said they discovered people could get hurt on wagon trains as easily today as they did several decades ago.
"We had one girl, who was an experienced rider, whose horse reared up and her saddle horn went into her gut," she said.
On their first wagon train, family and friends drove by to check on them.
"People just thought we were nuts," she says. "We didn't ask them to, but they just came and checked on us."
Connie Werner once went on a wagon train so cold that she returned home with frostbitten toes and fingers.
Not realizing how cold it really was at the time, the 1840s re-enactor told herself, "Just buck up, your pioneer sisters went through this."
The Werners' customers are just as serious, she says. Dr. Roy Hall, who has had his buggy restored by the Werners, uses his vehicle for rounds in and around Holton, Kan.
And like his customers, Don Werner doesn't intend to hang his tools up any time soon.
"As long as the Lord will let us," he says, he will continue. "They'll probably have to carry me out of the shop, I s'pose."
Until then, he will continue to show people that craftsmanship and the pioneer spirit exist more than a century after the first wagons headed west.
Copyright 2018 The Lawrence Journal-World. All rights reserved. This material may not be published, broadcast, rewritten or redistributed. We strive to uphold our values for every story published.