Leigh McHatton walks almost like she used to. She can curl her fingers in a full fist, and she can dress herself. But she can't drive yet. And she struggles with a new anxiety about being on her own.
It's been 44 days since the Kansas University student dashed and rolled her way out of the Boardwalk Apartments fire, burning her face and leaving her hands and feet mangled.
Forty-four days of hospital rooms and tears, therapy and nightmares and the struggle of finding a way to start life over again.
McHatton said she wants to return to KU next semester and finish the art degree she was months shy of completing when the fire occurred. But as the 24-year-old imagines the life ahead of her, she struggles with her worries.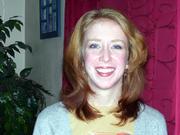 "It's hard for me to imagine when I will be on my own again," McHatton said. "I'm still working through some fears about being on my own and realizing that this (fire) is hopefully a once in a lifetime experience."
The fire killed three people and injured 20, including McHatton. Jason A. Rose, 20, has been charged with setting the fire.
Fresh memory
McHatton is at her home in Winona, in northwestern Kansas. She goes to occupational and physical therapy and marvels at her own progress.
But the fire remains fresh in her mind.
On the night of Oct. 7, McHatton fell asleep watching television on the couch in her second-floor apartment. She awoke after 1:30 a.m. to the smell of smoke and a crackling sound outside her door. Heat seeped through the walls.
Boardwalk Apartments Fire
More on the Boardwalk Apartments Fire
She opened the door to flames. She grabbed shoes, a sweatshirt and blanket and dashed back out the door, tearing through the burning walkway.
Fire engulfed the stairwell. She rushed through it, crashing onto the landing, and falling down the second set of stairs. At the bottom, still on the ground, she rolled out of the flames.
"I was trying to think of what I was supposed to do," she said. She grabbed the cell phone out of her pocket and started to dial 911, but the phone was hot. She dropped it. The shouts of those still in the building traveled through the flames.
McHatton tried to help others until she dropped from the excruciating pain. A man carried her to safety.
Her face was numb. Her hands and feet were mangled and burned.
"I wasn't able to tell if I still had a face left or not," she said.
McHatton was airlifted to University of Kansas Hospital in Kansas City, Kan.
Skin grafts
When she awoke in the hospital, McHatton couldn't speak or see.
But she could hear her parents' voices.
They gave her a piece of paper and a marker. On the paper, she asked whether everyone had escaped the fire. She asked about her face. She wondered what was left of it.
And the slow recovery began. Skin was grafted from McHatton's thighs to her feet and hands.
Like a baby, McHatton couldn't do anything on her own. She needed help to get up, to go to the bathroom, to roll over in her bed.
McHatton lost most of her belongings in the fire. Her two cats died. The fire destroyed all those things that were smaller than their significance: concert tickets memorializing happy times, notes scribbled on napkins, pictures. McHatton visited Italy last summer. Most of her photographs burned.
"I'm worried about losing memories that I have without having those objects," she said. "I kind of just lost everything."
As an art student, she had amassed a portfolio of work. It's gone.
McHatton returned to her old apartment building awhile ago.
She looked at the one across the street, its unmarred facade. Then she looked at her old building, destroyed.
She removed her license plate from her charred car. On the ground lay the sign with her apartment number. The scene didn't make her sad or mad.
"It was really kind of chilling."
The future
McHatton tries to look at the future like an adventure.
"I'm 24 years old, and I get to start all over again," she said. "Everything that I have left is in myself."
Many people have shown their support for her. She wants to get better - for them.
She knows she is lucky.
"I am alive by a thin thread," she said. "I crawled my way out of there. I was lucky enough that I woke and I had the courage to run."
She wants to be independent again. She wants to go back to her job working with people with disabilities. She has learned that there are times when people need the help of others, and she wants to give.
"I ran out of there to save my life and I'm going to use my life the best way I can because I'm so grateful to have it," she said.
McHatton said she tries not to think about what caused the fire. And she doesn't pass judgment on Rose.
Her father, J.C. McHatton, said he has flashes of anger, but he knows that if Rose started the fire, he ruined his own life along with hurting others.
He spent days, while his daughter was in intensive care, praying that his child would make it through.
"There isn't any room for hate left in my heart," he said.
Copyright 2018 The Lawrence Journal-World. All rights reserved. This material may not be published, broadcast, rewritten or redistributed. We strive to uphold our values for every story published.