Dallas — The Mavericks set a season-high for points, but their work on the defensive end was a major factor in ending the Detroit Pistons' bid to remain the NBA's lone unbeaten team.
Josh Howard scored 26 points, and Dirk Nowitzki had 23 as the Mavericks raced to a 26-point first-quarter lead and handed the Pistons their first loss of the season, 119-82, Saturday night.
"We concentrated more on the defensive end and rebounding the ball," Howard said after the Mavericks held the Pistons to 41 percent shooting from the field. "We wanted to make sure they got one shot and that was it."
Dallas got off to a blazing start with its highest-scoring quarter of the season. The Mavericks made 17 of their first 21 shots (81 percent) to build a 40-16 lead after the opening period.
"We felt if we came out and gave it all we had for the first two or three quarters, we could get out to a lead," Dallas guard Jason Terry said. "It definitely came down to us having more energy than they did."
The Pistons were 5-for-19 from the field in their lowest-scoring first quarter of the season.
"We had some pretty good individual performances, but defensively we really competed against a championship-caliber team," Dallas coach Avery Johnson said.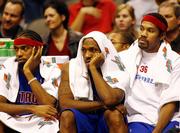 The Pistons, the NBA's last unbeaten team, opened the season with eight victories to match the second-best start in franchise history - trailing only the 9-0 mark set in 1970-71.
Erick Dampier, scoreless in the previous two games, added 16 points and 14 rebounds for the Mavericks, who held a 47-26 rebounding edge.
Marquis Daniels had 15 points and six assists, and Devin Harris added 14 points for Dallas, which improved to 4-0 at home and 7-2 overall.
Richard Hamilton had 18 points to lead Detroit, which had been limiting opponents to a league-low 87 points per game. However, the Pistons seemed weary from a road back-to-back situation, coming off a 78-70 victory Friday night at Houston.
Cavaliers 123, 76ers 120
Philadelphia - LeBron James had 36 points, 11 rebounds and 10 assists for his first triple-double of the season, rallying Cleveland.
Larry Hughes scored a season-high 37 points, including five three-pointers, and former Kansas University standout Drew Gooden added 16 for the Cavaliers, who won their seventh straight.
Allen Iverson led Philadelphia with 37 points, and Chris Webber added 26 points and 11 rebounds.
Spurs 97, Suns 91
San Antonio - Tony Parker hit a soft runner in the lane over Steve Nash with 35 seconds to go, and San Antonio held off Phoenix.
Parker forced Nash to take an errant shot on the next possession, then calmly hit two free throws to seal the victory.
Tim Duncan had 24 points and 13 rebounds for his league-leading eighth double-double, and Parker finished with 19 points on 8-for-18 shooting.
Shawn Marion had 22 points and 15 rebounds, and Nash added 14 points and 10 assists.
The game included four technical fouls by the two coaching staffs.
Nets 89, Wizards 83
East Rutherford, N.J. - Vince Carter scored 19 points, and Richard Jefferson had 16 points and 13 rebounds as New Jersey won its second straight and beat Washington for the 15th time in the last 18 meetings. Jason Kidd and Clifford Robinson had 12 points apiece, and Nenad Krstic added 11 before fouling out for the Nets.
Antawn Jamison had 23 points and 13 rebounds to lead Washington, which lost its third straight.
Hornets 98, Magic 95
Orlando, Fla. - David West scored a career-high 34 points and Chris Paul added 21, leading New Orleans.
Hedo Turkoglu and Keyon Dooling had 22 points apiece for Orlando.
The Magic's Dwight Howard had 16 points and 17 rebounds for his seventh straight double-double.
Timberwolves 102, Bobcats 89
Minneapolis - Kevin Garnett had 19 points and 11 rebounds, and Michael Olowokandi scored a season-high 18 points as Minnesota overcame a slow start and won its second straight after a two-game skid.
Wally Szczerbiak added 15 points, Troy Hudson had 13 points, and Rashad McCants added 11 for Minnesota.
Raymond Felton led the Bobcats with 15 points.
Copyright 2018 The Associated Press. All rights reserved. This material may not be published, broadcast, rewritten or redistributed. We strive to uphold our values for every story published.