Manhattan — Perry Potter sat alone in the south end zone at Bill Snyder Family Stadium on Saturday, nearly two hours before Kansas State beat Missouri in what would be Snyder's last game on the sidelines.
Potter, a retired teacher who earned a master's degree from Kansas State in 1978, watched a highlight video of Snyder's 17 seasons in Manhattan on the big screen at the other end of the stadium.
Potter remembered 1989, Snyder's first year after coming to what many called a coaching graveyard, when the Wildcats beat North Texas State, 20-17, on the final play of the game, snapping a 27-game winless streak.
"It looked like the same old deal," Potter said, watching the big-screen video of Frank Hernandez hauling in that game-winning touchdown. "They hit that pass in the corner of the end zone, and it was like everybody in the stadium had won the lottery."
But that's how most people felt during the 1990s, when Snyder resurrected the Wildcats and led them to 11 consecutive bowl games and a run of six 11-victory seasons.
His 136 victories in Manhattan are one shy of the total number of wins from when Lynn "Pappy" Waldorf led Kansas State to the Big 6 title in 1934 to Snyder's arrival after the 1988 season.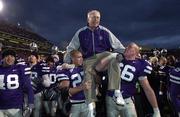 "None of us knew what Bill Snyder was going to be like. We didn't know him," said Rich Kerschen, a season-ticket holder since 1970. "He really turned things around. You could tell after that first year it was going to be OK."
Kerschen, a 1964 Kansas State graduate, remembers when his family could make the 21â2-hour trip from his home in Wichita, pull up to the stadium and walk in at kickoff. Kansas State had only one winning season the first 12 years he had tickets.
"The kids didn't want to come because they knew we'd lose. We had to bribe them," said Kerschen, whose three children and their spouses all attended Kansas State. "We went through the dryness of the desert for many years. It was always 'what if,' but that all changed when Bill came."
Snyder brought with him a sense of discipline, Kerschen said. Signs on the door of the Vanier Football Complex asked visitors to wipe their feet before entering. Practice became regimented, and expectations soared.
In 1998, Kansas State came within inches of playing for a national championship, and only two years ago the program won its first conference title in nearly 70 years.
Copyright 2018 The Associated Press. All rights reserved. This material may not be published, broadcast, rewritten or redistributed. We strive to uphold our values for every story published.