Vienna, Austria — The U.N. atomic watchdog agency revealed Friday that Iran received black market nuclear designs that diplomats say appear to be blueprints for the core of a nuclear warhead - a finding expected to be used by Washington and its allies in their push to have Tehran referred to the U.N. Security Council.
A senior U.S. diplomat called the development disturbing. The revelations also came as Iran said it had begun converting a second batch of uranium into gas, a step that brings it closer to producing the enriched uranium used to either generate electricity or build bombs.
The State Department denounced Iran's actions. "You've given the world cause for concern," spokesman Adam Ereli said. "The international community doesn't like what it sees, and it doesn't like the kind of behavior that you've been exhibiting over the last several years."
He urged Iran to be more forthcoming with the International Atomic Energy Agency at its 35-nation meeting next week. He said that if Tehran chooses to remain silent, it increases chances of becoming more isolated from the rest of the world.
"If a nation thinks that it's in their interest to tell the rest of the world to go take a leap, they can do that," Ereli said. "But that would certainly be unusual and ill-advised."
Undersecretary of State Nicholas R. Burns flew to London on Thursday night for talks with European and Russian ministers.
The European Union, with U.S. support, has been calling on Iran to reimpose a freeze on conversion since August. But the nation's top nuclear negotiator, Ali Larijani, told state TV the country had started converting the second batch of uranium.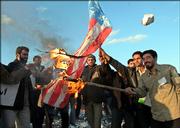 "This job is done and the plant is continuing its activity," Larijani said in an interview broadcast Friday.
One idea under consideration is to permit Iran to convert uranium but to move the enrichment process to Russia, thereby hopefully denying Iran the capacity to produce weapons-grade uranium for nuclear weapons. President Bush confirmed reports of U.S. approval of the compromise in a meeting Friday in South Korea with Russian President Vladimir Putin.
The IAEA said Iran received the detailed designs from the network run by Abdul Qadeer Khan, the father of Pakistan's nuclear program. His network supplied Libya with information for its now-dismantled nuclear weapons program that included an engineer's drawing of an atomic bomb.
The document given to Iran in 1987 showed how to cast "enriched, natural and depleted uranium metal into hemispherical forms," said a confidential IAEA report. IAEA officials refused to comment on the implications of the finding.
Design for a weapon
But diplomats close to the agency said it appeared to be a design for the core of a nuclear warhead. The report said Iran insisted it had not asked for the designs but was given them anyway by members of the black market nuclear network - something a senior official close to the agency said the IAEA was still investigating.
The diplomats requested anonymity in exchange for discussing the confidential report obtained by The Associated Press. The document was prepared for Thursday's meeting of the IAEA's 35-nation board, which could decide to refer Tehran to the U.N. Security Council for possible sanctions for violating a nuclear arms control treaty.
Most board nations are concerned that Iran has resumed uranium conversion - a precursor to enrichment - and has refused to meet all IAEA requests about a nuclear program that was clandestine for nearly 20 years until discovered three years ago.
The United States insists Iran is trying to make nuclear weapons, while Iran maintains its program is strictly for generating electricity.
The chief U.S. delegate to the IAEA, Gregory L. Schulte, said Washington was "very concerned" about the design, along with the "large cache of documents uncovered by the agency" showing detailed instructions on how to set up uranium enrichment facilities.
"This opens new concerns about weaponization that Iran has failed to address," he said.
Former nuclear inspector David Albright said the design is "part of what you need ... to build a nuclear weapon."
Although it's not a "smoking gun" proving Iran was developing nuclear weapons, the find casts doubt on previous Iranian assertions it had no documents on making such arms, said Albright, now the head of the Institute for Science and International Security in Washington.
The report said Iran had handed over black market documents revealing detailed instructions on setting up the complicated process of uranium enrichment. Khan has acknowledged selling secrets to Iran, Libya and North Korea.
The report also suggested Iran had something to hide, saying it continues to refuse access to a where it could be storing equipment that could help investigators determine whether the military is running a secret nuclear program.
Copyright 2018 The Associated Press. All rights reserved. This material may not be published, broadcast, rewritten or redistributed. We strive to uphold our values for every story published.