Kansas University freshman Micah Downs suited up but did not play after spraining his left ankle at shootaround.
It's the same ankle that bothered him as far back as late September at Boot Camp.
"It may be bad. He definitely won't practice tomorrow. I don't know if he'll be able to play against Arizona (Monday)," KU coach Bill Self said of Downs' status for the Maui Invitational.
X-rays were negative. Self called the injury a "bad sprain."
"It's not broken. Hopefully, it'll get better every day," the coach said.
Downs wore a boot on the left foot earlier in the semester, missing more than a week at that time because of a sprain.
¢ Super Mario: Freshman Mario Chalmers, who scored 15 points and had four steals in 24 minutes in his college debut, for a moment thought he was back in high school Friday.
Public-address announcer Brian Hanni, who was subbing for Lawrence High play-by-play man Hank Booth, referred to Chalmers as "Super Mario" after one of Chalmers' second-half buckets.
Photo Gallery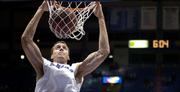 KU vs. Idaho State
"I heard it. My teammates call me 'Super Mario' sometimes. They used to say that (on P.A.) in high school. I was surprised to hear it here," Chalmers said.
Self wasn't happy with the 'Super Mario' reference on the P.A.: A KU official told Hanni not to repeat the nickname.
Of his debut, Chalmers said: "I thought it was good. Most of them (points) came from the foul line (where he was 7-for-7). Coach lets me go when I'm out there. I try to get in the flow."
¢ Davis family at the mike: KU radio announcer Bob Davis wasn't the only member of the Davis family working play-by-play Friday. Davis' son, Steven, worked play-by-play for the Idaho State network. The younger Davis, who worked as a manager on KU's team for several years, broadcast minor-league baseball games in Idaho Falls last summer.
¢ Faces in crowd: Kansas City Chiefs defensive end Jared Allen attended. He's a second-year pro from NCAA Div. II Idaho State. Chiefs special-teams man Dante Hall also attended. ... JaRon Rush, brother of KU guard Brandon Rush, attended, as did Kansas City Central High sophomore basketball player Travis Releford, a KU recruit.
¢ Today's schedule: The Jayhawks will lift weights at 7 a.m. until 7:20 today, practice until 8:30, eat breakfast at 9, leave for Kansas City International at 9:30 and arrive in Hawaii tonight. KU will practice Sunday for two hours.
"It's the only time we can practice (today)," said Self, noting he had to institute some basic scouting work for Monday's Arizona game.
The Jayhawks and Wildcats will tangle at 8 p.m. Monday at Lahaina Civic Center.
¢ Outstanding plays in game: Chalmers drove the lane, did a spin move and hit Christian Moody for a layup; Chalmers poked the ball from Logan Kinghorn, raced down and hit an eight-footer; Hawkins raced through the lane and dished to Moody for a slam, then Hawkins forced a turnover on the next possession; Chalmers had a no-look pass to Kaun for a hoop and Julian Wright a crisp feed to Kaun for a bucket; Rush made a backdoor cut and hit Kaun for a layin.
¢ Langford in NBDL: Keith Langford has started his first professional season with the Fort Worth, Texas, entry in the National Basketball Developmental League.
He told the Fort Worth Star-Telegram he was disappointed not being chosen on draft day.
"It was pretty disappointing because I thought about leaving one time after my sophomore year in college," Langford said. "After that year I had knee surgery twice. I felt like I missed my window of opportunity so to speak. But I can't live in the past. I've got to move on. It was disappointing, but knowing that I can still get there is what keeps me going."
Langford said he would consider playing overseas next year if he isn't picked up by an NBA team.
Copyright 2018 The Lawrence Journal-World. All rights reserved. This material may not be published, broadcast, rewritten or redistributed. We strive to uphold our values for every story published.