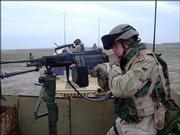 A Kansas University ROTC graduate who has just returned from a stint in Iraq will fly into the Lawrence Municipal Airport on Sunday for a reception.
Capt. Pat Stuber, above, is expected to land at 3:15 p.m. in Lawrence, and a reception will follow, said his father, Al Stuber.
Pat Stuber, who now lives near Memphis, Tenn., graduated from KU in 1998.
He recently served one year in Iraq as part of the Tennessee National Guard. He returned about two weeks ago.
While in the U.S. Army, Stuber has also served during the first Gulf War and in Bosnia, his father said.
When Stuber returned from the first Gulf War, he flew into Lawrence in a similar fashion, his father said.
On Sunday, his arrival will include either two or four other planes in the Missing Man Formation.
"Absolutely, we are glad to see him coming back," said Stuber's father. "It's deja vu all over again. I call him a repeat defender."
Copyright 2018 The Lawrence Journal-World. All rights reserved. This material may not be published, broadcast, rewritten or redistributed. We strive to uphold our values for every story published.