Late, great Al McGuire, one of the most colorful characters in college basketball history, was fond of saying the best thing about freshmen is they become sophomores.
Not always.
The best thing about the freshmen who took the Allen Fieldhouse court for their Kansas University debuts Friday night in a 90-66 mugging of Idaho State was that they were a blast to watch play the game.
On a night that belonged to sophomore center Sasha Kaun (25 points, 16 rebounds, looked like a track star running the floor), Brandon Rush, Mario Chalmers and Julian Wright to varying degrees showed why they were the objects of so much recruiting affection.
Micah Downs, who sprained his ankle in Friday's shootaround, did not play and walked with such a pronounced limp it wouldn't be surprising if he does all of his playing in Hawaii on the beach. Bummer. His long-range shooting touch was missed as the Jayhawks made two of 13 threes.
Each freshman is ready to help right away, though Wright has the most polishing to do to a game that already features terrific passing and productive rebounding.
Photo Gallery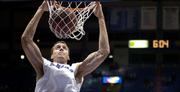 KU vs. Idaho State
For one thing, Wright needs to remember to take his warmup jersey off before entering the game.
"For a second there, I thought he might be playing for Evansville with the sleeves," KU coach Bill Self said.
Said Chalmers: "I was getting on him in the locker room about that. Julian just spaces out sometimes, but it's all in good nature."
In 14 minutes, Wright totaled nine points, five rebounds, four assists, two blocks, a steal and now the bad stat, four turnovers. He's active, which is good, yet too often hyperactive.
"He just gets in a hurry," Self said. "His brain is going so fast. He shouldn't be turning the ball over but once or twice in that amount of time. Still, I thought he played a good game. As you know, he can pass. He had the two best passes of the night."
All four freshmen bring different skills to the game. The one thing they have in common is uncommon passing ability. Chalmers (15 points, three assists, four steals) had a couple of no-look passes, his deception stemming from his eyes, head and ball fakes.
And Rush, such an unemotional player whose head is always in the game, had a beauty of a helper that set up Kaun for a one-hand power slam. Jeff Hawkins hit Rush on a back-door cut, and the streaking Rush immediately flipped an underhand pass to Kaun.
That had to be Rush's favorite highlight of the night, right? Wrong.
"It was the one I went baseline, slipped, fell, pulled myself back up and went in for the reverse," Rush said.
The best shooter of the four was grounded to the bench by the ankle injury, but even without Downs' soft touch, the freshmen combined to make 12 of 13 free throws.
"I think Brandon and I are both going to draw a lot of fouls," Chalmers said.
Not to mention a lot of rave reviews and in time a lot of attention from NBA scouts. They're both so polished for freshmen, sometimes looking as if they've already become sophomores.
Copyright 2018 The Lawrence Journal-World. All rights reserved. This material may not be published, broadcast, rewritten or redistributed. We strive to uphold our values for every story published.