New York — Huey Lewis has the look of someone who has found a new drug.
The front man for Huey Lewis and The News is kind of freaked, kind of jazzed. It's the feeling you get when you realize you might be in a little over your head, but it feels good anyway.
"I pinch myself daily," says Lewis, whose band blazed up the charts in the 1980s with hits including "The Power of Love," "The Heart of Rock 'n' Roll" and "I Want a New Drug." The group is still together and plays about 85 shows a year.
What's got Lewis feeling this is his latest, seemingly unlikely endeavor: the coveted role of sleazy lawyer Billy Flynn in the multiple Tony Award-winning "Chicago: The Musical."
"Never in my wildest dreams did I think I'd end up on Broadway," he says over coffee at Bond 45, a Times Square restaurant near the show's Ambassador Theatre home.
"I never would have solicited it or even thought about it. I watched the movie 'Chicago' and really loved it, but never for the life of me thought, 'Oh, man, I could do that role.' Never, ever."
Lewis, 55, follows in the footsteps of other entertainers who have played the role, including Jerry Orbach, Ben Vereen, George Hamilton, Wayne Brady, Patrick Swayze, Richard Gere, Alan Thicke and Taye Diggs.
"As I've said to the cast, 'I don't have to be the best, but I better not be the worst,"' Lewis says. Plus, he has a special understanding of the role: "I'm in the music business - I know a lot of lawyers."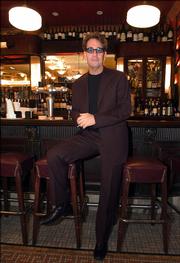 'In it to win it'
Bernard Dotson, the show's dance captain who trained Lewis, says he's been impressed by his student's zeal to master the Bob Fosse material without a Bob Fosse background.
"He's in it to win it," Dotson says. "He really wants to have a great time with it. He really respects the show a great deal, and he sees how hard everyone else is working. He wants to be a part of it."
Lewis became part of it when producers asked him if he might be interested in going in earlier this year. He begged off, conveniently citing a touring schedule to promote his band's 25th anniversary DVD.
"When they inquired, my initial impulse was, 'I can't do that. I'm not a legit guy. I don't have the chops for that,"' Lewis says. While visiting his son at New York University, he saw "Chicago" and changed his tune, agreeing to come in this month.
"I was knocked out by the show. I thought, 'I could almost do this' Of course, what you begin to realize is how actually complicated it is.
"Musical theater is absolutely the jazz of show business. You have to sing, dance and act all at the same time. And it's live - there's no messing around. That's very appealing to me. Difficult, scary, but stimulating."
A different story
For Lewis, the challenge has forced him to adjust. Being the lead singer of a band and appearing on stage in a show might seem alike, but he insists they aren't.
"In my role as Huey Lewis, if I want to sing a different note, I just go ahead and play it. If I want to move over here, I move. ... If I want to talk to the crowd, I stop the band and talk to the crowd.
"Stylistically, it's also completely different singing. In rock 'n' roll, we don't hold the notes that long and we don't have long note finishes. We fade out on a record or end abruptly. And all these songs have big finishes."
The acting is a different story. Lewis has been dabbling at it since 1985's "Back to the Future," in which he had a cameo role and performed the title song. In 1993, he was a member of the ensemble cast of the movie "Short Cuts."
He's also had parts in "Sphere," "Shadow of Doubt" and "Duets," where he co-starred with Gwyneth Paltrow. Their duet of "Cruisin"' reached No. 1 on Billboard's adult contemporary chart.
So what about the third leg of musical theater: dancing? "My initial attempts are very amusing," he says with a smile.
Copyright 2018 The Associated Press. All rights reserved. This material may not be published, broadcast, rewritten or redistributed. We strive to uphold our values for every story published.