For some people, Thanksgiving is about more than gorging on a big holiday feast.
The things they've experienced make being thankful more than just a cliche. For them, giving thanks becomes part of daily life.
Shelby Oaks, Gary Farley and Cherri Walrod have different backgrounds.
But for all three, their lives and faith have given them a new perspective on Thanksgiving.
Appreciating the sights, sounds, smells of family Thanksgiving after deployment
Maj. Gary Farley was a commander in Iraq for a year in 2003-2004. He is a Lawrence resident and operations officer for Kansas University Army ROTC.
Serving in Iraq, I witnessed many soldiers bravely put aside their longing for home as they remained focused on their duty.
During the deployment, the holidays didn't seem depressing; it just didn't seem like holidays. The days came and went by like many others. We were in Babylon, Iraq, on Thanksgiving, which brought the first rain in seven months and created flash flooding. We spent most of the day recovering our equipment and digging out mud.
We were with a multinational division, and they managed to put together a Thanksgiving dinner. It consisted of some sort of pressed meat turkey loaf. I recall soldiers smiling in agreement as one commented, "Well, this is a far cry from my mom's cooking, but I guess it's better than nothing!"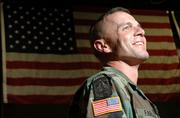 And we were appreciative of the efforts of our international comrades. Moreover, being far from home with the commercial aspects and chaos stripped away, it allowed me to draw close to my Lord and realize how much I had to be thankful for.
I always knew that I was blessed to have a wonderful family, live in the freedom of America, and to serve as a soldier. But that night I asked myself: Do I truly count my blessings each and every day? I felt a great peace as I vowed not to take for granted what God had given me.
Last Thanksgiving, back at home with my wife and children, the smells, sounds and tastes seemed so intense. I reflected on the pertinence of my time with God the year before and thanked him once again for everything I had.
Likewise, this year, when I look upon the faces of my family, walk outside and smell the fresh, free air, I'll be smiling as I gather in the magnitude of my blessings.
'Miracle' of adoption gives family new outlook on thanks
Cherri Walrod lives in Eudora with her three biological children and husband, Paul. The family has adopted one girl from South Korea and is in the process of adopting a boy from China.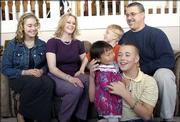 Many people believe that adoption is only for those who are not able to have biological children of their own. Our family is thankful that the miracle of adoption has opened our eyes to a different way of thinking.
We are thankful that God opened our hearts to building our family through adoption. We have three biological children: Loryn, 16; Landon, 11; and Jamison, 9. We adopted Jintry from South Korea two years ago. She'll be 3 in January.
We are thankful that every day we have the indescribable joy and activity of a toddler in our home. How quiet and ordinary our lives would be without the noise, the laughter, the tea parties, and the markers and toys everywhere!
We desperately love all of our children, but there is just something different about Jintry. She is not our blood, but how curiously like us she is. This is a great mystery. How could she, being conceived and born on the other side of the world, be such a perfect fit into our family? Truly, only God knows, and we are thankful.
Her zest for life is simply contagious. She bubbles over with conversation and curiosity. Singing songs, dancing like a princess, saying new words, trying out new expressions and doing things like "the big kids" is what she is all about. In all of this, we are thankful.
Our family is now in the process of our second international adoption. We "met" a little special needs boy from China this summer through our adoption agency. He was born with a severe cleft lip and palate and was found abandoned when he was about a week old. His name will be Simon, and he will turn 2 in January. He has been waiting a long time for his forever family. We are thankful that he will be joining our family sometime in the spring.
We are also very thankful to generous donors who contributed the first half of his adoption expenses to our family so that we could proceed with his adoption.
We are thankful that in this life that is full of hardship, stress, evil and so on, that we have been given a glimpse of eternity. We have been given the opportunity to store up for ourselves the greatest treasure ever: these lives and lasting relationships that will follow us to our eternal reward. It doesn't get any better than that here on earth, and we are thankful!
We now understand to a greater degree what Jesus Christ did for us. He offered to adopt us into his forever family, and we accepted. Our hearts have been permanently changed by this greater revelation.
We get what you did for us, God. We are beginning to understand how you can love us so, even though we are adopted, and we are thankful.
Fire changes KU student's life
Shelby Oaks, a Kansas University senior, is a survivor of the Oct. 7 fire at Boardwalk Apartments, in the 500 block of Fireside Drive, which killed three people. She is recovering at her parents' home in El Dorado and plans to return to Lawrence later this month.
Boardwalk Apartments Fire
More on the Boardwalk Apartments Fire
I remember waking up with the vision of bright light coming from my living room. I drug myself out of bed and lazily walked through my hallway to find my doorway engulfed in flames.
Through the initial confusion, I rushed to my kitchen to grab some water, and in an attempt to put out the flames, I realized my entire living room was on fire.
I lifted my sock-covered feet and saw the linoleum was melted to the bottoms of them. With the realization that I was burned, and wouldn't be able to escape through the doorway overwhelmed with fire, I ran back to my bedroom.
Before I went to sleep that night, I had made sure my window was securely locked. Searching through the darkness, I was unable to unlock the window, and I couldn't find anything to break the glass.
In an instant, without thinking, I used my right hand to punch through the window, cleared the rest of the glass and climbed up into the window sill. A young man, who I did not know, helped to break my fall out of the second-story window.
My neighbor allowed me to use his cell phone to call home as he wrapped my lacerated right arm to help stop the bleeding. Looking back at the apartment in horror, I realized I couldn't walk, my feet and hands were badly burned, and I didn't know what I was going to do to reach safety on the other side of the apartment complex. There was another young man in a yellow jacket who heard my cries for help and threw me on his back and carried me away from the danger.
The whole experience was surreal. You never think that anything like that is going to happen to you, let alone to an entire complex of people, disrupting and ending lives.
My fiance, Luke James, came to carry me to his car and take me to the emergency room. Driving away was the last I saw of my burning apartment and the last I saw of those who so selflessly helped me escape my inferno.
With the upcoming Thanksgiving holiday quickly approaching, I realize I have so much to be thankful for. I was saved by the grace of God. My fire alarm did not go off until I was jumping from my window - it was God's hand that shook me awake.
I never wear socks to bed, but that night God allowed for me to fall asleep with them on so my feet were not burned more than they were. I had blisters on my ears from the heat of the flames, but God protected me from my hair igniting along with the building.
God sent his angels to help me down from the building and carry me away from the flames. I am so thankful for my life, and for God protecting me, and guiding my actions in a time of need.
I look back at the situation that overturned my world as I knew it that October night, and I am so thankful that I have a wonderful and supportive family that has gone to every length possible to make me comfortable and happy back at home.
I am thankful for my upcoming marriage to Luke on Jan. 6 and that we, together, are allowed to start a new life, a new journey, which helps to ease the pain of what I lost.
I am forever indebted to those who have sent their thoughts and prayers my way, including my church family in Lawrence, and people all over the country. I am thankful for the assistance that Kansas University has given, allowing me to finish my semester at home, which permits me to graduate in May 2006.
I am thankful for all of those who helped rescue me - although I don't know your names, you know how you have forever changed all of our lives, and thank you.
But most of all, through everything, I am thankful that God has given me a wonderful testimony to share with the world - and maybe inspire others to seek out his amazing love and protection.
Psalms 4:8: "I will lay down and sleep in peace, for you alone, O Lord, will keep me safe."
Copyright 2018 The Lawrence Journal-World. All rights reserved. This material may not be published, broadcast, rewritten or redistributed. We strive to uphold our values for every story published.