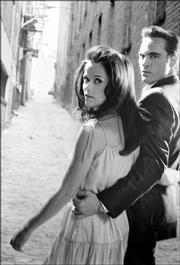 As Johnny Cash, Joaquin Phoenix out-mimics Jamie Foxx in this year's four-star biopic "Walk the Line." Reese Witherspoon is also top-notch as June Carter, while Tyler Hilton and Jonathan Rice are perfectly fine in their respective roles of Elvis Presley and Roy Orbison.
But what astonishes on celluloid sounds second-rate on CD. Good as they may be, these are mainly actors playing roles - though Waylon Malloy Payne (Jerry Lee Lewis) comes to his part naturally as the son of country singer Sammi Smith and Willie Nelson's guitarist Jody Payne.
Payne, incidentally, is named after his godfather Waylon Jennings, whose son Shooter Jennings' sparing take on his late father's 1966 album track "I'm a Long Way From Home" is the most artistically credible cut here. Strangely, Jennings, a budding recording star in his own right, is not at all made up to look like Waylon in the movie: that he sounds more like himself than his dad makes his version stand out next to the others' copies.
Not to slight such suitable facsimiles as the Phoenix-Witherspoon duets "It Ain't Me Babe" and "Jackson," but the true Cash and Carter fan will opt for the real thing every time.
Copyright 2017 The Associated Press. All rights reserved. This material may not be published, broadcast, rewritten or redistributed. We strive to uphold our values for every story published.