Since the days of Mount Vernon and other stately colonial housing, special furniture has been made to be used on the porch. George Washington had all-wooden Windsor chairs made for his porch. The chairs were sturdy and not overly sensitive to sun or rain. Porches in the 19th century often had wicker furniture that was lightweight and thrived in damp weather. Sometimes iron benches, tables and chairs were used. These were often made with parts that looked like branches or vines. Porches on rustic homes often had furniture made of peeled branches or rough-hewn logs. By the 1920s, porch furniture was made of lighter-weight metal; 40 years later, it was made of plastic. Gliders, swings and rocking chairs have always been popular. Today you can find both old and new informal furniture for an open porch or patio. Sometimes waterproof cushions are added for comfort.
Q: My mother died recently and wanted me to have her cookie jar. She always called it "Winnie." For at least 60 years, it sat on top of her refrigerator. It's marked "USA" on the bottom and still has the original green-and-gold palette-shaped sticker on the front that says it's hand-painted. Winnie is wearing red shoes, a white hat with clovers painted around it, and a white coat with a red collar, gold buttons and a green shamrock on the pocket. Who made it, and what is it worth?
A: Shawnee Pottery, which operated in Zanesville, Ohio, from 1937 to 1961, made two famous styles of pig cookie jars. They were Smiley, a male pig, and Winnie, a female. Both were painted in several different styles. Collectors refer to a Winnie with a shamrock on the pocket as, fittingly, "Shamrock Winnie." The value of a Winnie cookie jar depends on its colors, decorations, condition and rarity. Prices for Shamrock Winnies range from about $350 to more than $1,000.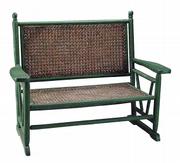 Q: I bought an old cast-iron Harley Davidson motorcycle toy in 1967. It's just over 5 inches long and has worn orange paint and white rubber tires. The words "Harley Davidson" are molded on the tank. The dealer who sold it said she thought it was made before 1920. Do you know who made it and what it's worth today?
A: Your motorcycle toy was made in the early 1930s by the Hubley Manufacturing Co. of Lancaster, Pa. Hubley made a large line of cast-iron motorcycle toys, including Harleys, during the 1920s and '30s. Your 5-1/2-inch orange model with white tires sells today for $350 to $400. Some Hubley Harley Davidson toys have been reproduced.
Q: My husband and I bought a dome-shaped glass advertising paperweight at a flea market. It's 3 inches in diameter. Printed in black on the white background inside the dome are the words "Thos. Evans & Co., Crescent Glass Works, Pittsburgh, Pa." In the center is a green-and-white drawing of the Crescent Glass Works trademark - a glass lamp chimney on the right and a crescent with a star on the left. Around the edge of the dome, there's a pink-and-black looping vine design. The bottom is marked "W.H. Maxwell, 1887." Value?
A: Advertising paperweights were first made in the 1870s by William H. Maxwell, the Pittsburgh manufacturer who made yours. Maxwell was issued a patent in 1882 that covered his method of placing designs on a thin glass plaque encased under a clear glass dome. Thomas Evans & Co. operated the Crescent Glass Works on the south side of Pittsburgh from 1869 until 1899. Evans then merged with the George A. Macbeth Co. to form Macbeth-Evans Co. Most 19th-century advertising paperweights used just one or two colors and sell today for $50 to $75. Your multicolored paperweight would sell for $150. Advertising paperweights lost popularity by about 1917.
Q: Is a box of Babe Ruth underwear worth anything? Babe's photo is on the green cover of the underwear box, along with the words "Babe Ruth All America Athletic Underwear, The Champion Nine."
A: Baseball Hall-of-Famer Babe Ruth allowed many companies to use his likeness to sell products. Your underwear box dates from about 1930. We have seen a few of these boxes auctioned throughout the past 10 years. A box in excellent to near-mint condition sells for $400 to $500.
Tip
Don't keep shelves of books near hot-air vents or radiators. Heat is bad for books.
Current prices
Current prices are recorded from antiques shows, flea markets, sales and auctions throughout the United States. Prices vary in different locations because of local economic conditions.
¢ Snow White soap, 6 bars with an illustration of the Dwarfs, "Grumpy would not take a bath, so he gets no soap" is noted on his sleeve, Kerk Guild Bath Prod., 1938, 2 1/4 inches, $165.
¢ Mocha creamer, black seaweed, light-gray background, tooled green band, 4 1/2 inches, $300.
¢ Hopalong Cassidy radio, red steel, silver-embossed panel on front, Hoppy riding Topper, original cord and plug, Arvin, 1950s, 8 x 5 x 4 inches, $450.
¢ Brass airline-hostess ring, adjustable, profile of young woman enclosed by stars, wing accent on sides, 1936, $600.
¢ Goofy wristwatch, designed to run backward, chrome case, animated hands, 17 jewel, red plastic band, Hasbro, 1972, box, $650.
Copyright 2018 The Lawrence Journal-World. All rights reserved. This material may not be published, broadcast, rewritten or redistributed. We strive to uphold our values for every story published.