I closed the last paper bag of leaves. It was No. 19 for the day. It was last Saturday afternoon and my yard finally looked green after six hours of work. I could see the new fall grass again.
Still, there were areas I couldn't vacuum up with my bagger mower, especially on the patio, between the bushes and on the sidewalk.
Just then, a strong gust of wind brought down a few new orange leaves. I frowned as they landed on my clean yard.
But I was tired and needed a break.
As I went in to find the Kansas-Texas football game on TV, I wondered how much a leaf blower would cost - and if it would really make the job go faster.
Better than a rake
I phoned Neil McCullough, who owns Fleetwood Mower and Rental, 710 W. Sixth St.
I was in luck. McCullough not only sells them, he had just used one.
"A leaf blower is definitely better than a rake, as far as timewise," he said.
Most models convert over into vacuums. But you have to know how to use them to save the most time.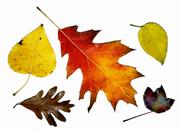 "It doesn't make sense to go around a yard that takes 45 minutes to mow with a 6-inch tube and try to suck up the leaves," he said.
He recommended first shooting the leaves into a three-foot wide pile that's about 20 feet long.
Next, you switch the blower over to vacuum/mulcher mode and suck up the leaves into a bag.
Lawn vacuum
McCullough said the best way to attack a yard full of leaves is with a full-fledged leaf vacuum, which is about 1.5-times the size of a lawnmower.
"It has a big snout on the front that picks up a 24-inch swath," McCullough said. "Then it sucks the leaves up through a blower. And when it goes through that blower, it breaks it down to about a 3-to-1 ratio that throws it into about a five-bushel bag that's on the machine."
Neil McCullough, owner of Fleetwood Mower and Rental, 710 W. Sixth.
Leaf blower links
Self-propelled leaf vacuums cost about $799, but you can get a smaller push model that cuts a 20-inch swath for about $599, he said. Some of them also come with a chipper/shredder attached to take care of smaller branches.
MTD makes the most popular lawn vacuums and also sells them under the Troy-Bilt, Yardman, YardMachine and Cub Cadet brand names, he said.
"That's probably the best way to do it, except it's expensive, and you've got another unit sitting around the garage to do maintenance on," McCullough said.
Gassing up or plugging in
After looking at a few leaf blowers online, I noticed the most important feature is power - how much air it can move and how fast it can move it.
Some consumer Web sites I found suggested looking for light-weight models under 10 pounds.
Most of the better leaf blowers have vacuum/mulcher attachments to compress the leaves. Another selling point is not needing tools to change nozzles from the blowing to the vacuuming modes.
But the biggest consideration seems to be going with a gas or an electric model.
McCullough said he preferred the gas engine models because you don't have to worry about a power cord running up to your house.
Costs vary widely on the gasoline models, depending on manufacturers and how well they're made, he said.
Premium models, such as those made by Stihl, Echo and Shindaiwa, have chrome-impregnated cylinders for their engines, which make for easier starts and better idling than lesser models, he said.
"Stihl is probably the No. 1 leader in quality and innovation and new products," he said.
Strapping it on
I checked online and found that costs of two-cycle engine leaf blowers are more expensive than the electric models - the hand-held ones (under 10 pounds) range from about $150 to $220, depending on brand, features and power.
For example, the Stihl BG 55, which has a two-cycle, 1.66 cubic-inch engine, weighs 8.6 pounds and creates air velocity of 140 mph and air volume of 430 cubic feet per minutes. It cost $169.
Others mentioned as top-rated included the Craftsman 79734 (about $130), and Homelight Vac Attack II ($99).
Heavier models that you can strap on to your back produce even greater air volume.
Stihl's model BR600, which just came out in June for about $500, is one of the most powerful backpack models made. It produces 201 mph of velocity at 712 cubic feet per minute.
As I read about its specs, I could imagine strapping it on, and powerfully stripping the remaining stubborn leaves off my trees and bushes.
And when I was done, I could probably make quick work of cleaning the garage floor - or even all my daughters' old clothes scattered through the basement.
Electric models
Many of the of the electric leaf blowers are smaller that the gasoline models, but still put out quite a blast.
They're also a lot cheaper than the gas-powered models.
For example, Wal-Mart sells a Poulan Weed Eater 7.5 amp electric leaf blower for about $27.
One of the top electric models that consumer Web sites talked about was the Toro Super Blower Vac 51591, which sells for about $60. And it has some power.
The specs on the Toro model said it has a 12-amp motor that gives you two air speeds - 150 mph or 215 mph. In blower mode, it pushes 270 cubic feet of air per minute. And in vacuum/shredder mode, it brings in 375 cubic feet per minute.
And, at 7.3 pounds, it's not too heavy. It also converts from blower to vacuum/leaf shredder with a quick-release latch.
McCullough told me about a Stihl electric model he sells, the BGE 60, that's a little lighter, but still powerful. The 6.2-pound electric unit puts out a 139 mph flow of air at 362 cubic feet per minute, at $99.
Winds of fortune
It was halftime during the KU-Texas game, and I was reeling like the rest of the Jayhawk nation. The No. 2 Longhorns led KU, 52 to zero.
I was tired of seeing all those orange-clad fans cheering, so I went outside - and was shocked.
Despite all my work earlier in the day, the yard was again covered in leaves.
The strong afternoon winds were piling them up again on my sidewalk, on the front steps and in the driveway next to the garage.
Then something kind of weird happened. A gust of wind scooped up what looked like a large orange blob. The blob rose up off the street, then blew all over my yard, like a stampede of orange.
I knew how KU's team felt - I was getting blown out and I needed a better offense.
Hopefully, we'll both have a better weapon in a couple of weeks.
Copyright 2018 The Lawrence Journal-World. All rights reserved. This material may not be published, broadcast, rewritten or redistributed. We strive to uphold our values for every story published.