A lawyer whose firm used half-page newspaper advertisements to solicit victims of the Boardwalk Apartments fire says none of the "half a dozen or so" respondents reported hearing or being awakened by an alarm.
"I've not talked to a single person who heard a fire alarm go off," said Andrew Nantz, a partner in Hunter & Nantz, a Kansas City, Mo., law firm.
Nantz declined to say whether litigation was likely.
"We're still in the investigation stage," he said.
The Oct. 7 fire claimed the lives of three tenants. More than 80 people were displaced after losing all or most of their possessions.
"I can't mention names," Nantz said, "but I've talked to an individual who was watching television on the third floor, heard some commotion, looked outside, saw the fire, and called 911."
Nantz said the 911 dispatcher asked the tenant questions "like where are you calling from and are you sure it's a fire?"
The questions, Nantz said, imply the tenant may have been the first to call 911.
The alarm in the tenant's apartment did not go off, Nantz said.
Photo Gallery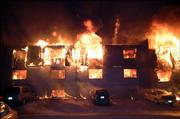 Fire at Boardwalk Apartments
"Ask yourself what kind of alarm system was in place that lets a person look out their window, see flames and be on the phone to 911 and still not go off?" Nantz said.
But Lawrence Fire Marshal Rich Barr said Boardwalk Apartments had some alarms - though it's unclear how many - that had gone off.
"We've determined through interviews that some of the alarms had sounded," Barr said. "But we don't know if they all went off."
Barr explained that because the Boardwalk Apartments were built in 1965, they were not subject to regulations that, had the complex been built today, would require sprinklers and a sophisticated alarm system.
At the time of the fire, Boardwalk Apartments only had to have smoke alarms. Barr said the apartment complex was in compliance with city code but noted that his department has neither the time nor personnel to "physically go into each individual apartment."
Barr said he had no way to know whether each apartment's smoke alarm worked before or during the fire.
He warned that smoke alarms do not go off until they detect smoke.
Boardwalk Apartments Fire
More on the Boardwalk Apartments Fire
"If there's a fire outside your apartment and your front door is sealed, it'll be a while before your smoke detector goes off," Barr said. "There has to be smoke in the room before it goes off."
As fire marshal, Barr said he favors requiring landlords to install sprinklers and state-of-the-art smoke detectors in the city's aging apartment complexes. But such a requirement, he said, would cost millions of dollars and would prove difficult to enact and enforce.
Nantz argued that even if Boardwalk Apartments was in compliance with city fire codes, it wasn't relieved of its legal obligations to protect its tenants.
"Meeting the standard of law and meeting a standard of code are two different things," Nantz said.
Nantz said his firm took out half-page advertisements in the Journal-World after being contacted by a tenant.
"Basically, what we're saying is that if anybody has information - whether or not they're a potential claimant - we'd like to talk to them," he said. "It's important to get to people while (memories) are fresh."
Nantz said he's sure other tenants have been in contact with other law firms.
Sandara Meyer and her husband, Ronnie, were displaced by the fire.
"I was the last one out," Meyer said. "Ronnie jumped out the second-floor window, broke his arm in three places."
Their smoke alarm, she said, did not go off. She's seen the advertisements for Hunter & Nantz.
"We're planning on calling them," she said, "but we haven't yet. We just got through fighting for Ronnie's disability and for my heart medicine."
Contacted by the Journal-World, Boardwalk Apartments manager Donna Watson declined comment Monday.
A spokeswoman for Stinson Morrison Hecker, an Overland Park law firm representing Boardwalk Apartments, also declined comment.
Copyright 2018 The Lawrence Journal-World. All rights reserved. This material may not be published, broadcast, rewritten or redistributed. We strive to uphold our values for every story published.