That wasn't last year's Kansas University women's basketball team Tegan Stuart saw out there.
"I think they've improved a lot and have a great future," Stuart said. "On the perimeter, they have a lot of good shooters and athletic girls."
Stuart faced KU while wearing an Iowa State uniform last season, but Sunday she was in Emporia State togs as the Jayhawks cruised to an 83-53 exhibition victory in Allen Fieldhouse.
Kansas was outsized by the Hornets, yet the Jayhawks' speed and quickness forced a glaring 29 turnovers - seven by Stuart - and KU was credited with 36 points off those ESU mechanical errors.
Many of the turnovers were forced when KU went into trapping defenses after free throws and dead balls. Last season, the Jayhawks rarely trapped.
Photo Gallery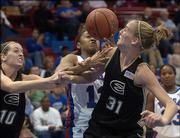 KU vs Emporia State 11-13-05
"I think we have the depth to do it," KU coach Bonnie Henrickson said, "but we're not ready to do it all the time."
The Jayhawks came out ready, streaking to a 16-4 lead before the Hornets - expected to be an NCAA Div. II power - battled back to slice KU's lead to 22-20 with 7:28 remaining before the break.
That's when the Jayhawks went into their forced-turnovers mode. On 11 trips down the floor, the Hornets turned the ball over 10 times, and KU coasted to a 38-22 bulge at intermission.
"We definitely have some help this year," said KU senior guard Erica Hallman, a four-year starter. "Depth is what killed us last year."
Sunday, KU's reserves posted 32 points, with Shaquina Mosley, Marija Zinic and Jamie Boyd contributing eight points apiece.
It's a cinch the Jayhawks couldn't have collected 83 points last year with Crystal Kemp making just two baskets. Kemp, who had scored 24 points in last week's exhibition victory over Pittsburg State, played 25 minutes Sunday and struggled because E-State had the size to limit her touches.
"She's going to get double-teamed all year," Henrickson said. "We do it in practice, and she hates it."
Kemp, a 6-foot-2 senior, did collect a team-high eight rebounds, but she misfired on seven of nine shots.
"Last year, if she wasn't making her shots," Hallman said, "we had only me, Kaylee (Brown) and Aqua (Burras) who could score. Now we have a lot more people who are capable."
Even returning starter Taylor McIntosh, normally offensively challenged and foul-prone, collected 10 points and was called for just two fouls. One, however, was a technical foul after she pushed an E-State player moments after being fouled.
"She knows better than that," Henrickson said, "and she's disappointed about it."
All in all, Henrickson couldn't find much to be disappointed about. The Jayhawks shot nearly 50 percent (33 of 67), had 40 points in the paint and outrebounded the Hornets, 40-34.
"Their perimeter play is something Big 12 teams will have to deal with," ESU coach Brandon Schneider said.
Tuesday in Manhattan, Emporia State bowed to Kansas State, 60-48, prompting someone to ask Schneider to compare KU and KSU.
"Off the top of my head," he said, "KU has athleticism on the perimeter, but K-State probably has more depth on the interior."
Still, Kansas scored 23 more points against the Hornets than K-State did, and that didn't sit well with the ESU coach.
"I'm not a fan of giving up 83 points, regardless of the level," Schneider said.
Kansas will open the regular season Sunday against Binghamton. Tipoff will be at noon in Allen Fieldhouse.
Copyright 2018 The Lawrence Journal-World. All rights reserved. This material may not be published, broadcast, rewritten or redistributed. We strive to uphold our values for every story published.