Las Vegas — As they lounged poolside reading under a 50-foot replica of the Eiffel Tower at the Paris Hotel & Casino here, the last thing Alice and Jerry Long wanted to do was gamble.
"You need to relax when you're eating, and when you're at the pool," said Alice Long, 56, of Hickory, N.C. Her husband, Jerry, 60, was absorbed in a book. "Gambling is not relaxing," he said.
By the time the Longs return to Las Vegas next fall it may be harder to relax. Others next to them at the pool might be playing blackjack, poker, roulette and even slots. This summer, Nevada became the first state to allow the use of wireless, hand-held gambling devices inside casinos.
The Nevada Gaming Control Board is holding public hearings before drafting regulations governing their use. Atlantic City, N.J., gambling operators are watching closely because Las Vegas sets the trend, and what starts here doesn't stay here.
Considered gambling's newest frontier, wireless devices mark another step closer for U.S. companies that want to enter the lucrative, but currently illegal, world of online gambling. Some worry they will only encourage problem gambling, especially among minors.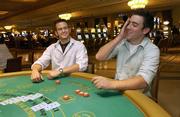 Cantor G&W;, an affiliate of New York-based Cantor Fitzgerald L.P., wants to provide the system and the devices to the Las Vegas casinos. For the Wall Street firm, the business leverages its experience with mobile trading technology.
"This is about allowing people to play their favorite casino-type games without being restricted to the traditional convenience of a casino floor," said Joe Asher, managing director of Cantor G&W.; "Fundamentally, a $100 million bond trade is the same as a $10 bet on a football game or $10 on a hand of video poker."
He said the devices, ranging in size from a handheld computer to a slate or tablet PC, could be another source of revenue for the casinos and help them keep customers longer.
How it would work
To gamble using the mobile devices, a casino visitor would need to show identification to obtain one from the casino, and then deposit money into an electronic account. Under the law signed by Nevada Gov. Kenny Guinn in June, a wireless-blackjack player could gamble in public areas such as the bars, restaurants, pool area and convention hall of a casino. The devices could not be used in hotel rooms or other private areas.
"We think there is a market for it," Asher said. "You have a whole new generation that grew up with video games."
He's talking about people like Hugh Himmel, of Lansdale, Pa., who said he started playing online poker in 2001. He was 18 at the time - too young to gamble in an Atlantic City casino.
"This will really take off with the younger crowd," said Himmel, now 22, who was at the Borgata Hotel Casino & Spa in Atlantic City recently with Jason Quattro, also 22, to play table games.
Himmel said he would use the portable device to brush up on his poker skills.
"You don't get good overnight," he said. "The more hands you play, the better you become."
Others see trouble ahead.
The National Council on Problem Gambling in Washington estimates that about 5 percent of children under 18 have a gambling problem. The agency provides information, education and referral services to problem gamblers in 34 states.
"That's the last thing any compulsive gambler needs, especially an underage gambler," said Terry Elman, education coordinator for the council's New Jersey office. "This could push them over the edge."
Elman said casino surveillance cameras would not be able to monitor the wireless device at all times and that a minor could easily obtain one from an adult.
"You can't watch them every place," he said.
State Sen. Maggie Carlton, who cast the lone vote in the Nevada Legislature against hand-helds, said the device "looks like a toy, and kids love toys."
"I think the convenience of it will be desirable to people," Terri Lanni, chairman and chief executive officer of MGM Mirage, said at the September G2E Global Gaming Conference here, where the hand-held device was exhibited.
New revenue source
For MGM Mirage, wireless technology may provide a new avenue to capture some of the growth in electronic gambling.
Las Vegas-based MGM Grand casino developed an online site three years ago in the Isle of Man, near Britain. Lanni said the casino beamed its service only into Britain and could not compete against offshore companies mining the United States for online gambling business.
U.S. gamblers accounted for two-thirds of the $8.2 billion generated by the online gambling industry last year. But a combination of state and federal laws - notably the Wire Act of 1961 - prohibits American companies from taking bets online. The exception is betting on horse races, where there is a loophole for state-licensed Internet companies.
"What our casino operators would love to do is Internet gambling," said William Thompson, a University of Nevada, Las Vegas, professor who specializes in public policy and gambling. "But it would have to be legal, and legal across state lines."
More than 70 countries allow Internet gambling in some form, including France, Germany and Britain.
"These countries have all worked out acceptable regulation and licensing programs ... for such things as servers and software," said Martin D. Owens Jr., a California lawyer specializing in Internet gambling law. "As a result, the online gambling money is flowing to them."
Owens also blamed state gambling laws for not keeping up with technology. Only six states have laws that even mention Internet gambling.
Copyright 2018 The Lawrence Journal-World. All rights reserved. This material may not be published, broadcast, rewritten or redistributed. We strive to uphold our values for every story published.