Columbia, S.C. — Months before Steve Spurrier coached his first game for South Carolina, the former top Gator made clear where his allegiance now lies.
Spurrier was playing in a celebrity golf event last spring when a youngster asked him to sign a Florida cap.
"You got the wrong hat, my man," he said. "You got to get a (South) Carolina hat."
Spurrier faces the team he coached to a national title for the first time since he bolted to the NFL in 2002, when No. 12 Florida plays streaking South Carolina today.
"It's been three years since I coached (Florida)," Spurrier said this week. "This is my team now."
You couldn't fault Spurrier for having a soft spot for the Gators. Florida football has never had a bigger star. He won the 1966 Heisman Trophy as a Gators quarterback and three decades later coached them to a national championship, the crowning achievement in his 12-year reign as king of the Southeastern Conference.
The goals were more modest in the Ol' Ball Coach's first season with South Carolina.
Spurrier's trying to lead the Gamecocks (6-3 overall, 4-3 SEC) to their first victory over the Gators (7-2, 5-2) in 14 games, a streak that dates to 1939.
"I'm not the first coach to ever coach against his alma mater," Spurrier said. "This happens a lot around the country."
It's happened already to Spurrier, sort of.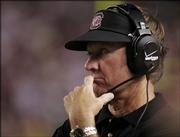 He was a Georgia Tech assistant in 1979 when the Yellow Jackets tied Florida 7-7 at the yet-to-be-nicknamed Swamp -- another Spurrier innovation.
"Let's just go play the game and let the players decide who wins it," he said. "That's what I think we should all focus on this week, but probably won't."
Spurrier's history at Florida is the reason for that.
His stories as a player were heroic enough -- remember how he kicked the game-
winning field goal to beat Auburn in 1966? Then he revolutionized offense in the SEC with his Fun-N-Gun attack.
When Florida fired Ron Zook last year, many Gators fans prayed for Spurrier's return. But neither the coach nor the school was all that interested in a sequel.
Florida hired Urban Meyer, who has the Gators contending for an SEC championship. Florida needs to beat the Gamecocks and get a little help to catch Georgia for a spot in the conference title game.
"Obviously, it's a big week, a huge week," Meyer said. "We're playing a game that has championship implications in November. That's why you get up. That's why you shave. That's why you eat breakfast in the morning."
Spurrier threw many for a loop by landing in Columbia. But he brushed off South Carolina's mediocre football history, borrowing the catch phrase "Why not us?" from the 2004 World Series champion Boston Red Sox.
After starting the SEC season 0-3 -- a first for Spurrier -- the Gamecocks have won four straight in the league. Carolina beat Tennessee in Knoxville for the first time, and already has qualified for the postseason.
Spurrier's players have seen little change in their coach's attitude or demeanor with his old school coming to town.
"I guess his nature is just trickling down to us that this game is just as big as the Vanderbilt game or the Troy game," receiver Kris Clark said. "Everything starts at the top and flows on down, I guess, and that's how we're carrying ourselves."
Defensive end Orus Lambert said Spurrier talked about not letting the hype distract them from preparing for Florida. "Just like coach Spurrier told the team, it's not what he does, it's pretty much on the players," Lambert said.
As for Spurrier, he'll always cherish his Gator roots.
"I pull for Florida every game," he said, "but one."
Copyright 2018 The Associated Press. All rights reserved. This material may not be published, broadcast, rewritten or redistributed. We strive to uphold our values for every story published.