Willey Frick, 16, was acknowledged at the annual Eagle Scout recognition banquet Oct. 25. The dinner honored all Scouts in the Pelathe District, Heart of America Council, who advanced to the rank of Eagle during the past 12 months. The event was sponsored by the Breakfast Optimist Club and the Camp Bromelsick Foundation Inc. Twenty-seven new Eagle Scouts were honored at the dinner.
Willey entered the Scouting program in 1996 as a Bobcat in Pack 3052 and advanced to the rank of Eagle as a member of Troop 55, sponsored by Westside Presbyterian Church. His Eagle Court of Honor was April 17.
Some of his accomplishments include the completion of 27 merit badges, serving in five positions of leadership, recipient of the 12 Month Campers Award, induction into the Order of the Arrow and the Tribe of Mic-O-Say honor camping societies, participation in High Adventure Programs at Sea Base in the Florida Keys, canoeing Quetico Provincial Park in the Atikokan Wilderness Area in Ontario, Canada, and leading a Rocky Mountain ski trip adventure. He has camped many times at Camp Theodore Naish Scout Reservation, Camp Bromelsick and for five years at the H. Roe Bartle Scout Reservation.
Willey's Eagle Scout project consisted of designing and organizing the construction of a four-station tire swing in the playground area of Raintree Montessori School.
Willey is a junior at Lawrence High School, where he is a member of the cross-country team. He is the son of John Frick and Karen Frick.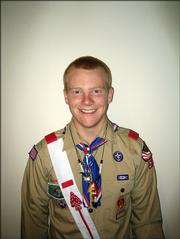 ¢ Boy Scout Troop 55, chartered to Westside Presbyterian Church of Lawrence, rode bicycles Nov. 5 on the Prairie Spirit Bike Trail and then camped overnight at the North Lake in Garnett.
Scouts and leaders rode about 50 miles on the bike trail from Garnett to Ottawa. Several of the Scouts were working on their cycling merit badges, and two boys completed their communications merit badges. Scouts who participated were Will Armstrong, Bryce Baringer, Andrew Boyd, Drew Braden, Bryant Denning, Josh Gore, Wolfgang Johanning, Ludwig Johanning, Ulrich Johanning, Logan Marienau, Ted Olsen, Jacob Pfeifer, Isaac Remboldt, Andrew Sigler and Jeremy Woodhead. They were accompanied by adult leaders Laurie Marienau, Joe Wilson, Tom Gore, Connie Gore, John Pfeifer, Scott Woodhead and Jeff Sigler.
The next campout will be Nov. 18-20 at Camp Bromelsick, where the boys will continue to work on campsite improvements.
¢ Cub Scout Pack 3013, chartered to the Raintree Montessori School of Lawrence, had its monthly Pack meeting Nov. 2. Den 3 presented the opening and closing ceremonies. Cubs in each of the four dens received awards and advancements. Members of Lawrence-Douglas County Fire & Medical gave a presentation on first aid, particularly first response at an accident site.
¢ Boy Scout Troop 62, chartered to the Linwood Lion's Club, recently had a campout on the Katy Trail in Missouri. They biked from McBain to New Franklin, which was 20 miles. They saw a copperhead snake and a mine shaft, and they went into some caves. Scouts attending were Logan Ross, Skylar Ross, Brian Pemberton, Ryan Ellis, John Hopkins, C.J. King, Josh King and Levi Draper. They were accompanied by adult leaders Matt Ross, Mike Pemberton and Mike Ellis.
Copyright 2018 The Lawrence Journal-World. All rights reserved. This material may not be published, broadcast, rewritten or redistributed. We strive to uphold our values for every story published.