The kangaroo is hiding inside a shoebox - for now.
Soon, it'll make Christmas a little brighter for a child in a Third World country.
The stuffed toy is among the contents of a gift-wrapped box that also holds toothpaste, cotton shorts, two whistles, a washcloth, a Batman shirt and candy, including several Tootsie Pops.
The box, now sitting at First Christian Church, 1000 Ky., will be one of approximately 8 million similar boxes delivered as part of Operation Christmas Child, an international program designed to spread Christmas gifts and a Christian message to poor children around the world.
"We'll all ask our grandkids, 'You got your Christmas list yet?'" says Katie Studebaker, who leads local participation in the project. "But it's hard to think some children have never received a gift. They operate day-to-day."
And that's why Studebaker and a group of women at First Christian have spent the last few weeks feverishly packing shoeboxes to be shipped overseas.
The church has been involved with the project for about a decade and has been a regional collection site for four years. Next week, members of area churches and others will bring in shoeboxes they've collected for packing and shipment at First Christian.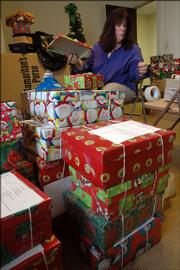 "It's just fun to be here," says Theodora Dixon, a volunteer at the church. "You just want to be here to see the faces of people who come in with boxes."
Spiritual gifts
Operation Christmas Child, in its 16th year, is led by Samaritan's Purse, a mission organization led by Billy Graham's son, Franklin. Last year, the organization delivered 7.8 million shoeboxes to children in 90 countries.
Each box contains a combination of toys, candy and practical items. Except in countries that won't allow it, most of the boxes also include Christian literature explaining, in the child's own language, the Christmas story. Some box-packers also choose to include a letter to the child receiving the gifts.
Last year, First Christian Church packed 300 boxes and collected an additional 1,400 from area churches and individuals.
Organizers are hoping to pack 500 boxes at the church this year and figure they'll have more from area churches as well.
"I think we do it because of our faith and what we're taught," Studebaker says. "You do things for people who don't have things."
Church shoppers
For the women at First Christian, Operation Christmas Child has become a year-round endeavor.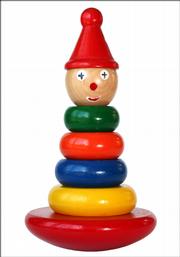 Suzanne Hiersche says she is always keeping an eye out for bargain items to add to boxes. The week after Christmas or Halloween, she stocks up on candy. She buys clothes when they're going out of season so they'll be cheaper.
"You have to stay watching the sales," she says.
She uses both her own money and a modest $300 church budget for her purchases. The gifts must be new, and war-related toys, perishable foods, liquids, medicines and breakable items aren't accepted.
Hiersche and her fellow workers learn how to jam-pack as much they can into the shoeboxes, which are donated by Payless ShoeSource in Topeka.
"It's amazing what you can fit in a shoebox," Hiersche says. "You can get kind of carried away."
Showing love
Operation Christmas Child has done its part to energize area churches well before the holiday season officially begins.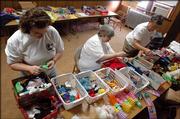 "It's really captured our hearts," says Joyce Collins, a member at Worden United Methodist Church. "We're talking about children all over the world, and we can share love with them, share Jesus with them and let them know there are people in the world that care about them."
The church, which has about 180 people attend each Sunday, has set a goal of packing 1,000 boxes this year - about four times what it did last year.
Collins says the church has themes each month for items to purchase, such as soap and washcloth month and hair supply month.
"We're working on it year-round," she says. "For us, it's serious all year, really. We're encouraging people to put it at the top of their list."
Members will drive the boxes themselves to Denver for processing and shipment to other countries.
Other churches have opted to deliver their boxes to First Christian Church, which will then ship the boxes collected in Lawrence to Overland Park. From there, they go to Minnesota to be shipped overseas.
With the devastating tsunami in Asia last December, the earthquake in Pakistan that killed more than 80,000 and ongoing wars in Iraq and Afghanistan, local organizers say there's more need than ever for participation in the project.
"Our children don't have a concept for how a child would not have a Christmas," says Cathey Parsons, another First Christian member. "We can't fathom that would happen."
How to help
First Christian Church, 1000 Ky., will be collecting shoeboxes for Operation Christmas Child next week. Anyone can fill a box and drop it off at the church. Boxes should be designed for either a boy or a girl in one of three age ranges: 2-4 years old; 5-9 years old; or 10-14 years old. Suggested items for the boxes include underwear, T-shirts, socks, toothbrush, toothpaste, washcloth, hard candy, coloring book, crayons, stuffed animals, small toys (cars, yo-yos, kazoos, etc.), cups, pencils, pens, pencil sharpener, comb, brush, balloons and marbles. Items not allowed include used or damaged items, war-related items such as toy guns, chocolate or perishable food, liquids or lotions, medications or vitamins, breakable items and aerosol cans. Drop-off times are 4 p.m.-6 p.m. Monday, Tuesday, Thursday and Friday; 5 p.m.-7 p.m. Wednesday; 1 p.m.-4 p.m. Nov. 19; and 1 p.m.-3 p.m. Nov. 20.
Copyright 2018 The Lawrence Journal-World. All rights reserved. This material may not be published, broadcast, rewritten or redistributed. We strive to uphold our values for every story published.