Some private security guards can bench press more than 400 pounds. They work out regularly, then stand guard at Lawrence hot spots, instilling fear in some patrons.
"Once you see them, you have less confidence in yourself," said Trey Sanchez, a Kansas University sophomore. "You're like half their size."
They can be intimidating.
"They're just huge guys," said Jacob Mitchell, a KU senior. "I'm kind of glad I've never had to talk to them."
But it's not always easy being a private security guard.
"We are very, very misunderstood and misinterpreted," said Zac Marrs, owner of Mil-Spec Security Group in Lawrence.
Such security personnel do everything from guard bars to patrol apartment complexes. Some may think they're thugs or party-wreckers, but they're just doing their jobs, Marrs said.
"I think they've got the worst possible job actually," said Dennis Steffes, owner of Coyotes and Last Call nightclubs. "They not only get blamed for everything by us, but they get blamed for everything by everybody else."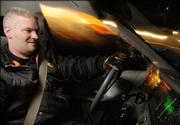 Two decades ago, there were no security firms in Lawrence, said Sgt. Dan Ward, spokesman for the Lawrence Police Department. Today there are several in the region, including Mil-Spec.
The companies can help keep peace and help when, some say, the Lawrence Police Department is understaffed.
"We don't have enough officers on the street to provide the level of presence that some individuals would like to have," Ward said. "They are an extra set of eyes for the police department."
Zac Marrs said his security officers have a relationship of necessity with police.
"They have their agenda, of course, and we have ours," he said. "We usually try to find a common ground."
Security officers must call the police if they detain someone who breaks the law. They never throw punches, but can restrain people through joint manipulation and pressure points.
The goal is to gain control of a situation without hurting anyone.
"You want them to go away and to go away quietly," said Matt Marrs, Mil-Spec's general manager and brother of Zac Marrs. "The reason why we're there is to keep things quiet."
It can be a thankless job. For $7 to $13 per hour, Mil-Spec's employees often work late hours protecting places such as bars, apartment buildings, warehouses, sports venues and other sites.
"We usually don't get compliments," Matt Marrs said.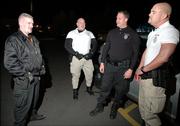 Mil-Spec has about 25 employees.
"There are certain individuals who are just geared for this kind of work," Zac Marrs said. "They're not too aggressive, and they're not too mild-mannered."
Some people understand the role of a security guard, he said. Others don't.
He recalled working in Olathe and being asked why he carried a pistol. The person told him that he was in Johnson County and that no one carries a gun in Johnson County.
A few months later, he witnessed a shooting while on duty.
"I think the people who don't understand why we're there are either naive or they've lived in a sheltered environment," he said.
Copyright 2018 The Lawrence Journal-World. All rights reserved. This material may not be published, broadcast, rewritten or redistributed. We strive to uphold our values for every story published.