Amman, Jordan — Al-Qaida claimed a squad of four Iraqi suicide bombers, including a husband and wife team, carried out the Ammam attacks with explosive belts after carefully staking out the hotels for a month. Jordan interrogated 12 suspects Friday who may have helped them.
The terror group's Iraqi branch issued its third Internet statement since Wednesday's nearly simultaneous attacks, saying the four Iraqis had the Radisson SAS, Grand Hyatt and Days Inn hotels under surveillance "to achieve greater accuracy in hitting the target."
It was believed to be the first time a married couple has carried out a suicide attack. The couple bombed the Days Inn after the woman "chose to accompany her husband to his martyrdom," the statement said.
Jordanian officials have found the remains of three males believed to be the attackers but could not confirm a woman was involved. Police were scouring footage from hotel security cameras, and forensic experts were analyzing the severed head of a woman discovered at one hotel.
The Days Inn explosion happened outside the hotel after the bombers' car was unable to cross a protective barrier. As a result, the casualties at the Days Inn were not as extensive as at the Hyatt and Radisson.
In its latest statement, al-Qaida said the bombings were carried out in response to "the conspiracy against the Sunnis," referring to the Muslim Arab group favored under Saddam Hussein's regime and now believed to form the core of the Iraqi insurgency.
Authorities have not said with certainty that Iraqis were involved, only that one of the bombers had an Iraqi accent. But there have been indications - including a letter this year from Osama bin Laden's top deputy - that al-Qaida in Iraq leader Abu Musab al-Zarqawi wants to extend his group's influence beyond Iraq.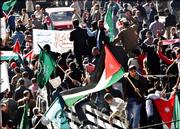 From the capital, Amman, to the northeastern industrial town of Zarqa, the birthplace of al-Zarqawi, thousands of Jordanians vented their fury for the second straight day and called for the terror group leader's death.
"Al-Zarqawi is rejected by everybody in Zarqa, even by his family members," said Mohammed al-Sharaa, a neighbor of the al-Qaida in Iraq leader's clan in Zarqa.
Police have detained more than 120 people, including Iraqis and Jordanians, in the manhunt for anyone who may have helped the bombers. Among those in custody were 12 people, including Jordanians, regarded by investigators as "suspects," Deputy Prime Minister Marwan Muasher told reporters.
Late Thursday, al-Qaida in Iraq issued a statement justifying the attack on the grounds that the hotels were "favorite places for the work of the intelligence organs, especially those of the Americans, the Israelis and some western European countries." But more than half of those killed were Jordanians.
Copyright 2018 The Associated Press. All rights reserved. This material may not be published, broadcast, rewritten or redistributed. We strive to uphold our values for every story published.