Kansas City, Mo. — One thing hasn't changed: The Kansas City Chiefs' starting running back declined to speak to reporters after Thursday's practice.
What's different is that Larry Johnson, once again stepping in for the media-shy Priest Holmes, finally is starting for a team with something to play for.
Johnson's first start in 2004 came late in the Kansas City Chiefs' 7-9 season, after he had spent much of the year as a disgruntled backup. But with Holmes out for the season yet again, this time because of head and neck trauma, Johnson is being counted on to carry the 5-3 Chiefs' ground game and a big chunk of their playoff hopes.
"I don't think there's any doubt," coach Dick Vermeil said. "I don't think he has to prove it to anybody. I think he's already done it."
Johnson, Kansas City's first-round selection in 2003, certainly didn't disappoint in his first start of the season, last weekend's 27-23 victory over the Oakland Raiders. In a game that has taken on instant-classic status in Kansas City, he finished with 107 yards rushing and two touchdowns, including the game-winning one-yard leap as time ran out.
He set up the score with a 36-yard catch-and-run, showcasing his improvement as a receiver.
"That was one of the things I talked about in training camp, is how much better of a receiver Larry has become," quarterback Trent Green said Thursday. "Last week, he showed some of that."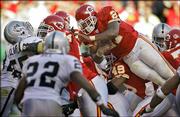 That's especially important to the Chiefs, who have relied heavily on Holmes as an outlet receiver - and sometimes the primary target - in the passing game.
"We did a lot of things with Priest on the outside. We did some screens with him, play-action stuff with him. Larry can do all those things, and he has gotten better at it," Green said. "Can he continue to get better at it? Definitely. But he has come a long way in terms of his ability to catch the ball and what he does after catching the ball."
Even before Holmes went out, Johnson had been given a bigger role in Kansas City's offense, playing every third series to give the 32-year-old Holmes a breather. He averages 5.2 yards per carry, leading the Chiefs with 506 yards on 98 attempts. But earlier this month, saying he could "never swallow the situation right here," he made it clear that he wanted more. It was a familiar refrain for Johnson, who will be making his fifth career start Sunday at Buffalo.
He was inactive for the first two games last year, then played sparingly behind Holmes and Derrick Blaylock. He chafed at his third-string status and sparred with Vermeil, who once suggested that Johnson needed to "take the diapers off."
Vermeil later apologized, but kept Johnson buried on the depth chart until injuries forced him to make a change. On Thursday, Vermeil characterized the dispute as a natural consequence of a college standout adjusting to life in the NFL.
"His role was a little tougher to handle initially," he said. "To be drafted No. 1, you think you're all of a sudden going to be the marquee running back, and you're not. You're behind another marquee running back, and that was hard for him to handle.
"It's not unique to him. It's unique to all rookies," Vermeil said. "He had such high expectations, and he put such pressure on himself that I think it hurt him a little bit. I think the big thing now is that he's matured into an NFL football player."
When Holmes went down at midseason last year because of strained knee ligaments, Blaylock started the next five games and Johnson saw extensive action. After Blaylock sustained a knee injury, Johnson started the last three games and finished the year with 541 yards and nine touchdowns.
Copyright 2018 The Associated Press. All rights reserved. This material may not be published, broadcast, rewritten or redistributed. We strive to uphold our values for every story published.