On the same day the Kansas State Board of Education approved new science standards criticizing evolution, voters in Dover, Pa., swept out eight conservative school board members who had mandated the teaching of intelligent design there.
"Candidates have been campaigning and getting their message out since before the primary," said Victoria Reiber, chairwoman of the Dover CARES campaign that pushed pro-evolution members onto the local school board after the issue went to federal court. "It was just a grassroots effort - making people aware of the facts."
Dover voters made their choices Tuesday, the same day the Kansas state school board took its action.
An effort similar to Dover's drive to unseat board members may be taking shape in Kansas.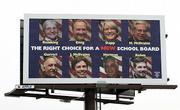 "We were following the Dover elections and the case, as well, pretty closely," said Kathy Cook of Kansas Families United for Public Education. "I think you're going to see a coalition of organizations come together to change the makeup of the (Kansas) board in the next year."
Conservatives who dominate the board seemed unconcerned Wednesday about the political fallout in Kansas.
"Pennsylvania and Kansas are different," board Chairman Steve Abrams said Wednesday.
But recent Kansas history suggests conservatives could face a challenge during the next board election, in 2006.
Different reaction?
The last time the Kansas Board of Education tinkered with evolution, removing the matter from science standards entirely in 1999, two conservatives lost their seats during the primary elections. That shifted control of the board back to moderates, who reshaped the standards to reflect a more traditional scientific view.
What's next
Science debate: The State Board of Education has approved new science standards for Kansas' public schools that treat evolution as a flawed theory.
Their use: Developing new tests for fourth-, seventh- and 10th-graders to measure how well schools teach science.
Time lag: The first tests under the new standards won't be given to students until 2008. About 105,000 students will take the science tests each year after that.
The authors: For the tests, WestEd, a nonprofit San Francisco research group, and Kansas University.
Not settled: The drafters haven't decided yet what will appear on the science tests and how many questions, if any, will deal with criticisms of evolution.
Four of the five board seats up for election next year are held by conservatives who voted for the new standards. Three of those incumbents - John Bacon of Olathe, Connie Morris of St. Francis and Iris Van Meter of Thayer - already have challengers.
But conservatives are betting that the new standards, which don't "ban" evolution, but critique the theory, won't provoke the same reaction.
"What actually did happen was so innocuous," said Judy Smith, Kansas director of Concerned Women for America, which supported the new standards. "It just allows for academic freedom for teachers, instead of dogma in science."
Asked whether she worried about a reversal at the polls, Smith said: "Do I worry about it? Yeah, I guess as much as I worry about anything else in an election."
Leaders of Kansas political parties on Wednesday downplayed the 2006 board races, with both Republicans and Democrats saying they want to win those campaigns - but are more focused on statewide and congressional elections.
Not just evolution
Derrick Sontag, executive director of the Kansas Republican Party, noted that conservative Connie Morris faces a primary challenge from former teacher Sally Cauble, who has criticized the new science standards.
"Connie may not be the nominee," Sontag said. "If that's the case, we'll end up helping the nominee, no matter who it is."
With religious conservatives making up a large portion of the Kansas electorate, though, Cook said that moderate candidates will have to broaden their appeal and criticize the current board for other reasons - the hiring of antitax activist Bob Corkins as the new education commissioner, for example, and for pushing vouchers while public schools struggle with funding.
"I don't think we're necessarily just talking about the intelligent design issue," Cook said. "I think those will be key issues that will appeal to all voters, regardless of whether you have a religious background or believe in intelligent design."
Copyright 2018 The Lawrence Journal-World. All rights reserved. This material may not be published, broadcast, rewritten or redistributed. We strive to uphold our values for every story published.