If you looked closely at an illustration that ran on page C1 of last Tuesday's Wall Street Journal, you could see one of the cartoon-like characters was wearing blue basketball garb with the letters "KU" on the back. The drawing illustrated a credit card story.
A coincidence?
Kutztown University?
Is the illustrator, John Dykes, a KU fan?
"Actually I was in Lawrence October 10th when I spoke to an illustration class and later that night did a program at Spencer Auditorium," Dykes said from his home in Sudbury, Mass. "I was working on this piece for the Wall Street Journal and thought showing a work in progress would be beneficial to the students."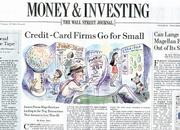 He thought the addition of KU on the character published in the Journal might get the students' attention.
The 1982 Syracuse University graduate has been freelancing for major publications and illustrating books for the past 20 years.
"I've known John for some time," said Barry Fitzgerald, an associate professor in KU's design department, "and we invited him to be one of our Hallmark Symposium speakers. He's very talented and did a very impressive show-and-tell for our students."
A portfolio of Dykes' artwork can be seen at www.jsdykes.com.
Copyright 2018 The Lawrence Journal-World. All rights reserved. This material may not be published, broadcast, rewritten or redistributed. We strive to uphold our values for every story published.