One woman was told she'd have to pay a towing company $425 to get her car back. The amount grew to $570, then $650, then $1,000, then $1,500.
In another case, a vehicle owner was billed $275 to tow her vehicle less than 1,500 feet.
Atty. Gen. Phill Kline made those allegations and more in a consumer-protection lawsuit filed this week in District Court against TransMasters, a Lawrence-based towing company at 1549 N. Third St.
Kline said the company committed 14 violations of the Kansas Consumer Protection Act since 1999 in cases involving six customers. He's asking a judge to fine the company $10,000 per count.
"It's just a pattern of deceptive business practices and unconscionable business practices under the law, and it's something that this office takes very seriously," said Whitney Watson, a Kline spokesman.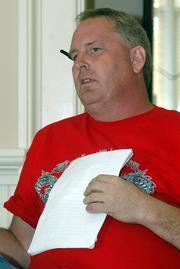 But Kevin Raasch, 40, owner of TransMasters, spoke out Wednesday to defend his business. He said he often deals with people who are upset just because they had an accident and learned they had to pay for the tow out-of-pocket.
Throw in storage costs, gas mileage and special equipment used to pull vehicles out of difficult spots, and the charges are justifiable, he says.
"I think there's people that would have complained whether it was $197.50 or $65," he said.
Asked why he thought the state was targeting him and not other towing companies, he said, "Maybe some other people are willing to negotiate, and I stand my ground and I'm not."
'Kind of shady'
Watson said the complaint was filed after Kline's office received a file of information the Kansas Highway Patrol had collected about TransMasters since the late 1990s. The company, founded in 1989, often responds to requests for tows on the Kansas Turnpike, which is policed by the patrol.
"They were basically internal memos that troopers had written to their patrol commander: 'I think this is kind of shady,'" Watson said. "Just a few months ago the troopers forwarded that information to us. ... We made contact with the people who are referenced in some of the reports."
Among the cases involved in the lawsuit:
¢ In August 2004, Kansas University student Beth Krayenhagen received a $425 bill after having her car towed out of water during a flash flood. The charges included $225 for towing, $100 for special equipment, $75 for storage, plus mileage charges.
In a 2004 Journal-World article about that incident, Raasch defended the charge as reasonable and disputed Krayenhagen's claim that employees resisted showing her an itemized bill.
¢ In May 2004, a woman who was hospitalized after a crash was charged $425 for a tow. When her daughter tried to get the vehicle, Kline alleges, TransMasters employees told her the amount grew to $570, then to $650 after she complained about it. Later, Kline alleges, the company demanded $1,000 and $1,500.
Raasch says the price grew simply because of storage fees. But Kline alleges the storage rates were excessive.
¢ In March 2003, a man was charged $441.25 for a tow and ended up paying $466.25, Kline alleges. But Raasch says Kline is flat-out wrong: the alleged victim in that case never paid or picked up his vehicle, Raasch says.
¢ In February 2005, the company charged a woman $275 to tow her vehicle less than 1,500 feet and store it less than an hour, Kline alleges. Raasch said he didn't remember the case offhand.
Copyright 2018 The Lawrence Journal-World. All rights reserved. This material may not be published, broadcast, rewritten or redistributed. We strive to uphold our values for every story published.