Washington — Supreme Court nominee Samuel Alito expressed "great respect" for the precedent established by the landmark Roe v. Wade abortion decision but didn't commit to upholding it, senators said Tuesday as Alito began a second week courting their support.
Sens. Joe Lieberman, D-Conn., and Susan Collins, R-Maine, both used the word "respect" when describing the 55-year-old federal appellate judge's discussions with them on the 1973 ruling that established abortion rights.
Alito said "Roe was precedent on which people, a lot of people, relied and had been precedent now for decades and therefore deserved great respect," Lieberman told reporters after his private meeting with the judge.
Collins said she quizzed Alito on whether it would make a difference if he disagreed with a Supreme Court decision that had been upheld by other judges repeatedly.
"I was obviously referring to Roe in that question," she said. "He assured me that he has tremendous respect for precedent and that his approach is to not overturn cases due to a disagreement with how they were originally decided."
Abortion will be a key topic at the conservative judge's confirmation hearing in January.
Hearing set for Jan. 9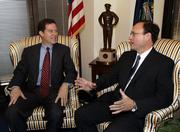 President Bush last week selected Alito, a former Reagan administration lawyer who is currently a judge on the Philadelphia-based 3rd U.S. Circuit Court of Appeals, after White House counsel Harriet Miers withdrew her nomination amid withering criticism from conservatives.
The Senate Judiciary Committee has already set his confirmation hearing for Jan. 9, although Alito has yet to be officially nominated by the White House. He is being nominated to replace retiring Justice Sandra Day O'Connor, who has been a key vote on contentious issues like abortion and affirmative action.
Sen. Sam Brownback, R-Kan., one of the Senate's most strident anti-abortion advocates, said he did not discuss Roe v. Wade with Alito in their meeting. Alito also did not say whether he thinks there is a right to privacy in the Constitution, Brownback said, although the conservative judge has told other senators that he does.
He already has met opposition from abortion rights groups like Planned Parenthood and NARAL Pro-Choice America, who point to an opinion he wrote as a judge on the 3rd U.S. Circuit Court of Appeals holding that states can require women seeking abortions to notify their spouses. The Supreme Court disagreed.
Lieberman called his meeting with Alito "encouraging," but also said the federal judge had not assured him that he would not overturn Roe. But reading his decisions, "you don't find ideology screaming off the page," Lieberman said.
Copyright 2018 The Associated Press. All rights reserved. This material may not be published, broadcast, rewritten or redistributed. We strive to uphold our values for every story published.