As the weather cools, nothing warms up Ken Krause like a mug of warm cider.
"It has a good flavor to it, has that apple taste to it," says Krause, who owns Fieldstone Orchard near Overbrook. "I think it's kind of nostalgic. Cider was a main product at one time, and when people homesteaded, part of it was they had to have an apple orchard."
Whether it's cider, cocoa, coffee or a more off-the-beaten-path beverage, people break out their mugs and opt for hot drinks this time of the year. There are plenty of alcoholic and nonalcoholic options to keep your belly warm.
Lora Wiley, owner of Au Marche, 931 Mass., starts getting special requests for hot drink ingredients in the fall.
"It really spikes up for the winter," she says.
The European gourmet shop sells a variety of teas, cocoas, coffees and other drink mixes.
Wiley says one specialty is Glgg, a Swedish mulled drink typically made with red wine. Au Marche sells both a liquid variety and a mix with almonds, raisins and other flavorful ingredients. There's also a German version, Glühwein.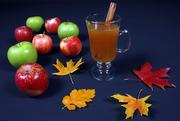 If you're looking for a beverage with a kick, James Zoeller has a drink for you. The bartender at the Bourgeois Pig, 6 E. Ninth St., tends to get quite a few orders for hot alcoholic drinks, considering the bar doubles as a coffee shop.
A popular request is Irish coffee, which is coffee with whiskey. But the bar serves pretty much anything a patron wants to concoct, and flavors like hazlenut and raspberry are commonly requested.
"You can kind of get creative with it," Zoeller says. "If someone says they want Frangelico (a hazlenut liqueur), you can do some other things with it."
But for Krause, whose operation makes about 2,000 gallons of cider every fall, simpler is better. He knows some people prefer to mull their cider with spices, but he likes his straight.
"I have cider apples from England and France," he says. "They're very tart, and they have a taste that's like a bounce."
ALCOHOLIC
Hot Chocolate Butterscotch
1 cup hot chocolate
1 shot butterscotch schnapps
1 splash Irish cream
Mix in mug.
Source: www.webtender.com
Snowplow
8 ounces hot chocolate
1 ounce Irish cream
1 ounce rum
1/2 ounce creme de cacao
1 dash cinnamon
Whipped cream
Mix hot chocolate to taste. Add alcohol, top with whipped cream and sprinkle with cinnamon.
Source: www.webtender.com
Woolly Mitten
1 1/2 ounces Southern Comfort
1 ounce peppermint schnapps
1 1/2 ounces Irish cream
1 bag cocoa powder
Hot water
2 parts whipped cream
Put cocoa mix in the mug, fill halfway with hot water and stir. Pour in Southern Comfort, schnapps and Irish cream and stir. Top off with hot water and whipped cream.
Source: www.webtender.com
Hot Toddy
1 tablespoon honey
3/4 glass tea
2 shots brandy
1 slice lemon
Brew tea and fill tall glass 3/4 full. Mix in honey and brandy shots. Add lemon slice.
Source: www.webtender.com
Scrumptious Coffee
48 ounces strong black coffee
Brown sugar
10 ounces brandy
8 ounces dark rum
8 ounces white rum
2 sticks cinnamon
16 ounces whipped cream
Orange peel
Nutmeg
Sweeten coffee with brown sugar to taste. Mix coffee, liquor and orange peel in pan. Heat gently, but do not boil. Let infuse for two minutes. Pour into pre-warmed, heat-resistant glasses. Float whipped cream on top. Garnish with thin strip of orange peel and nutmeg.
Source: www.webtender.com
Hot Apple Cider Toddy
3 cups apple cider
1 stick butter, softened
1/4 cup light brown sugar, packed
1 teaspoon ground nutmeg
1 teaspoon ground cinnamon
1 teaspoon ground cloves
8 graham crackers
1 teaspoon pumpkin pie spice
2 teaspoons rum extract
2 cups nondairy whipped topping
4 whole cinnamon sticks
4 shots bourbon whiskey
Heat apple cider in nonreactive saucepan. In a bowl, combine the butter, brown sugar, ground nutmeg, cinnamon and ground cloves. Whip until butter becomes creamy and ingredients are incorporated. Place graham crackers and pumpkin pie spice in a plastic baggie and crush with a rolling pin. Combine the rum extract with the nondairy whipped topping. In a footed coffee glass, place a single cinnamon stick and a slice of spiced butter. Pour 1 shot whiskey into the glass. Ladle the hot cider to fill the glass. Garnish with a dollop of rum-flavored topping and a sprinkle of graham cracker crumb mixture. Serve warm.
Source: www.foodnetwork.com
NON-ALCOHOLIC
The Best Hot Chocolate
3 cups whole milk
1 cup half-and-half
1/4 cup good quality Dutch process cocoa powder
1/2 cup sugar
1/4 teaspoon cinnamon
1/4 teaspoon pure vanilla extract
Place milk and half-and-half in a saucepan and heat to a simmer over medium heat. Meanwhile, stir together the cocoa powder, sugar and cinnamon. A few teaspoons at a time, stir the hot milk into the cocoa mixture to make a smooth paste. Scrape the cocoa mixture into the saucepan with the milk and simmer 2 minutes. Do not let boil. Stir in the vanilla and keep warm in a thermos. Pour into small serving cups and place four mini-marshmallows on each serving or spritz them with whipped cream.
Source: www.foodnetwork.com
Spicy Mocha
4 1/2 cups whole milk
4 small dried red chilies
3 cinnamon sticks
3 cups espresso
1 1/2 cups sugar
1 cup whipping cream
Combine milk, chilies and cinnamon sticks in a heavy large saucepan. Bring to a simmer over high heat. Remove from the heat. Cover and steep for 15 minutes. Whisk in the espresso, sugar and 1 cup of cocoa powder. Bring the hot chocolate to a simmer, whisking often. Discard the chilies and cinnamon sticks. Meanwhile, whisk the powdered sugar and remaining 1/4 cup cocoa powder in a large bowl to blend. Add the cream and whisk until the mixture is thick. Ladle the hot chocolate into eight mugs. Spoon the chocolate whipped cream atop and serve immediately.
Source: www.foodnetwork.com
Alpine Mint Hot Chocolate
1 cup whipping (heavy) cream
2 tablespoons powdered sugar
1 tablespoon baking cocoa
3/4 teaspoon peppermint extract
6 cups milk
3 cups white baking chips
Candy canes or crushed hard peppermint candy, if desired
Beat cream, powdered sugar, baking cocoa and 1/4 teaspoon peppermint extract in chilled small bowl with electric mixer on high speed until stiff peaks form. Cover and refrigerate mint cream topping until serving. Heat milk just to simmering over medium-low heat; do not boil. Reduce heat to low. Add chips; stir constantly with wire whisk until melted and smooth. Stir in 1/2 teaspoon peppermint extract. Pour mixture into cups or mugs. Top with mint cream topping. Garnish with candy cane for stirring, or sprinkle with crushed candies.
Source: www.bettycrocker.com
Mulled Cider
2 quarts apple cider
2 cinnamon sticks
2 whole allspice berries
2 whole cloves
1 orange, thinly sliced
Place all ingredients in a large saucepan and bring to a simmer on the grates of the grill or over a burner. Divide among individual mugs and serve hot.
Source: www.foodnetwork.com
Copyright 2018 The Lawrence Journal-World. All rights reserved. This material may not be published, broadcast, rewritten or redistributed. We strive to uphold our values for every story published.