Miami — Dwyane Wade made a free throw with 5.2 seconds left and blocked a potential game-winning layup at the buzzer to give the Miami Heat a 90-89 victory over the New Jersey Nets on Monday night.
Wade, who had 23 points, drove on the Nets' Jason Kidd and was fouled. He made the second of two free throws before blocking Vince Carter's shot.
The Nets pleaded for a foul, to no avail. Nets coach Lawrence Frank ran halfway across the court to complain about the non-call as the Heat trotted off and celebrated their 10th straight victory over New Jersey.
"All ball," said Wade on his way to the locker room.
Spurs 104, Bulls 95, OT
Chicago - Tim Duncan finished with 24 points and 16 rebounds, and Tony Parker scored eight of his 22 in overtime to lead San Antonio past the Bulls.
Tied at 91 after regulation, the Spurs outscored Chicago 13-4 in overtime.
Luol Deng led the Bulls with 19 points, and Ben Gordon finished with 14 after missing six of his first seven shots.
Jazz 95, Bobcats 91, OT
Charlotte, N.C. - Mehmet Okur scored seven of his career-high 31 points in overtime, and Utah beat the Bobcats.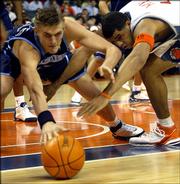 Andrei Kirilenko added 20 points and eight rebounds for the Jazz, who recovered after blowing a 14-point third-quarter lead.
Primoz Brezec, Sean May and Jumaine Jones scored 13 points, and Emeka Okafor added 12 points and 11 rebounds for the Bobcats.
Cavaliers 105, Raptors 93
Toronto - LeBron James had 27 points to lead Cleveland over the winless Raptors.
Larry Hughes added 16 points for the Cavaliers, who salvaged the last game of their three-game road trip.
Chris Bosh had 26 points and 12 rebounds for the Raptors, who are 0-4 for the first time in franchise history.
Timberwolves 93, Clippers 78
Minneapolis - Kevin Garnett had 22 points, 11 rebounds and eight assists to lead the Timberwolves past the Clippers.
Elton Brand had 26 points and eight rebounds to overshadow Sam Cassell (11 points on 3-for-10 shooting) in his return to Minnesota since the August trade that sent him to California for Marko Jaric.
Copyright 2018 The Associated Press. All rights reserved. This material may not be published, broadcast, rewritten or redistributed. We strive to uphold our values for every story published.