About one-third of consumers say they'll spend less this holiday season, and a small portion even say they'll resist putting up Christmas lights to save money, according to the latest Experian-Gallup Personal Credit Index.
Overall, there still will be a 5 percent increase in spending this season, according to a separate survey by BIGresearch for the National Retail Federation, a trade group, as consumers who plan to increase their outlays more than offset those cutting back.
Consumers will spend an average of $738 each this holiday season, up from $702 a year ago, according to the NRF survey of about 7,700 consumers.
Of 32 percent of consumers who intend to spend less, 64 percent will do so because of financial reasons, according to the telephone survey of 1,000 consumers in mid-October by Gallup for Experian, a credit-reporting firm.
"Incomes have not been growing" and energy costs have gone up, said Dennis Jacobe, chief economist with the Gallup Organization, a polling and research firm.
"A lot of consumers don't have a lot of alternatives to decrease their energy use. They have to heat their houses. A lot of them don't have any alternative but to drive to work. They can't reduce those costs and their incomes aren't going up," Jacobe said.
But others note that there's usually a portion of consumers who reduce their spending at Christmas, for a variety of reasons. Those include "my kids are older, or maybe the family decided we're only going to buy one gift," said Phil Rist, vice president of strategy at BIGresearch.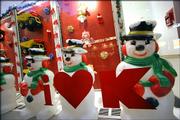 Still, he said, "energy has the opportunity to be the grinch" that takes a bite out of consumer spending. December might be the first month some consumers receive dramatically higher heating bills as cold weather sets in.
Consumers will spend a bit less on themselves this season, Rist noted, with the average amount spent on gifts for oneself dropping 3 percent to $86 this year from $89 last year.
On the Gallup survey, consumers appeared willing to try a variety of shopping destinations for holiday gifts: 82 percent of consumers said they'd head to department stores, 77 percent said they'd seek gifts at discount stores, 59 percent said they'd shop at specialty stores (e.g. toy, jewelry or clothing stores), 38 percent would shop online and 31 percent would use mail-order catalogs.
But fewer will hang Christmas lights this year: 52 percent of consumers said they would hang Christmas lights outside this year, down from 58 percent who said they did so last year.
"Some of this is psychological," Jacobe said. "It's not really 'how much dollars I save,' it's just 'I feel wasteful ... I feel irresponsible not conserving when the price goes so high. ' "
On the personal-finance front, the good news is a majority of consumers say they have cash on hand to cover the season's shopping budget: 86 percent said they'd buy holiday purchases with available money while just 12 percent said their shopping would increase credit-card debt, according to the Gallup-Experian poll.
But how many will stick to their plans? Yet another poll shows that while two-thirds of consumers save in advance for holiday shopping, a good portion of those consumers don't stick to the confines of their holiday budget.
About 13 percent of consumers said they exceeded their budget last year by an average $370, according to an online poll in August of 1,500 people by research firm TNS-NFO for HSBC-North America, of HSBC Holdings, the London-based financial services company.
Copyright 2018 The Lawrence Journal-World. All rights reserved. This material may not be published, broadcast, rewritten or redistributed. We strive to uphold our values for every story published.