The size difference for the third- and fourth-grade Rockets was too much to overcome as the Funky Monkeys went on to win 18-10 Saturday at Holcom Park Center.
The Funky Monkeys' size down low created scoring opportunities off rebounds and limited the Rockets from driving to the hoop.
Funky Monkey center Emily Tamerius took over the game with her ability to out-jump defenders on the glass and handle the ball up and down the court. Tamerius was able to pull down several offensive rebounds at a time, which led to close-range shots. Tamerius was also able to put the ball on the floor and dribble to the hoop.
With Tamerius' overwhelming presence near the hoop, teammate Sami Buffalomeat found plenty of open space in the backcourt. Buffalomeat used the open court to slash her way to the hoop. When the shot wasn't there, Buffalomeat looked to create opportunities for her teammates, assisting them with open shots.
"We had a really good effort, and we shot the ball better than I expected," said Funky Monkey coach Brian McFall. "I felt we played good defensively considering it was the first game of the season."
Looking to make things interesting in the second half, Rocket point guard Sydney Moreano took control of the ball and looked to up the pace of the game. Moreano raced down court, outrunning the Funky Monkeys for easy layups. Defensively, Moreano forced turnovers by pressuring the Funky Monkey offense.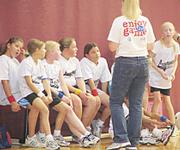 Undaunted by the size of the Funky Monkeys, Rocket point guard Marissa Pope attacked the rim. Pope recorded a couple of layups and drew fouls with her aggressive play.
In the end it was Kaitlyn Applegate's defense that secured the win for the Funky Monkeys. Applegate used her quick feet and positioning to stall Moreano and the Rocket offense long enough for the Funky Monkeys to earn the first win of the season.
Copyright 2018 The Lawrence Journal-World. All rights reserved. This material may not be published, broadcast, rewritten or redistributed. We strive to uphold our values for every story published.