Foxborough, Mass. — Last week, Peyton Manning played "The King." On Monday night, he played like the King of the NFL, leading the Indianapolis Colts over their personal Everest.
Maybe now, after routing the New England Patriots, 40-21, Monday night, they'll admit this could be a super season.
Manning shrugged off his 0-7 record at Foxborough with an intelligent dissection of the two-time defending champions. Aided by star running back Edgerrin James' 104 yards on 34 carries, and 100-yard receiving games from Marvin Harrison and Reggie Wayne, Manning kept the Colts perfect through eight games, the NFL's only undefeated team.
Instead of concentrating on this game the way much of the nation was, Manning spent his bye week watching brother Eli quarterback the Giants against Washington, then attending a Halloween party thrown by Eli. Peyton's getup: Elvis.
"Nobody recognized it was me, either," he said with a hardy laugh - perhaps the first time he ever has smiled after a game in Massachusetts. "I guess my secret is out."
Whatever secret formula the Patriots held against Indianapolis wasn't evident this time. Manning believed jumping in front was crucial.
"We wanted to execute and get a lead on this team. We haven't had a lead on this team in a long time," Manning said. "The idea is to try to dictate to the defense."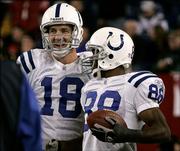 While the Patriots have struggled mightily with injuries, an undependable running game and a leaky defense, their hex over the Colts was the major theme. But the Patriots (4-4) were the inferior team Monday.
"We got our butts kicked tonight," Tom Brady said in a short statement before hustling out of a news conference.
New England still leads the AFC East, which doesn't put them within shouting distance of the Colts, who looked mature, savvy and resourceful, all elements they have lacked against the Pats in recent years.
The last time Indianapolis was here, in January, it managed all of three points in a divisional playoff game. This time, the Colts' vastly upgraded defense hit harder and forced the pace, while the offense was versatile and unflappable.
"I think we are more of a team and kind of feed off each other," Manning said. "It's definitely the best camaraderie we've had since I've been here eight years."
Manning was 28-of-37 for 321 yards and three touchdowns. He guided the Colts, who are 5-0 on the road, to scores on seven of eight possessions. Indy didn't punt until the final two minutes and scored its most points ever against the Patriots.
"It's pitiful. It's embarrassing," linebacker Rosevelt Colvin said. "We've got to get it right and we've got to get it right fast.
"They showed why they're pretty much the best team in the league."
Harrison had nine catches for 128 yards, and Wayne had nine for 124.
Copyright 2018 The Associated Press. All rights reserved. This material may not be published, broadcast, rewritten or redistributed. We strive to uphold our values for every story published.