Creating something that is equally stylish and practical is no easy feat. But boot designers this fall are giving women so many attractive choices that regular shoes are getting the shaft.
The offerings include cowboy boots, distressed leather, shearling and fur linings, stacked heels, wedge heels and fancy fabrics. Many styles lend themselves to walking or winter weather, so women no longer have to make the choice to be sexy in stilettos or warm and cozy in duck boots.
"The success of most trends depends on how well they relate to modern lifestyles," says Mario Butazzi, the product director for women's shoes at Salvatore Ferragamo.
Gordon Thompson, creative director of Cole Haan, sees women buying a lot of embellished and fanciful boots. "She got her basic boot last season, and now she's looking for something more fun, expressive and emotional," he says.
Photo Gallery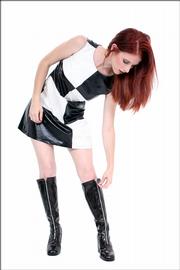 Boots
Meanwhile, shoe designer Brian Atwood says thicker heels are popular. His guide for wearing the best boot styles:
Wedge heel: Choose boots with a shaft that goes to the knee, and wear them with a skirt or dress. Pair them with a lighter-look top, perhaps a chiffon blouse or shrunken blazer.
Riding boot: Wear them with slim jeans, a skirt and blazer or a chunky sweater.
Stiletto heel: These are best in leather and should hit the knee, or, if you're really daring, above the knee. But don't wear them with miniskirts.
Ankle boot: A casual partner for a pantsuit or skirt with opaque tights.
Cowboy boot: "They look a little too 'done' with a skirt," Atwood says. "I like them better with jeans."
Copyright 2018 The Associated Press. All rights reserved. This material may not be published, broadcast, rewritten or redistributed. We strive to uphold our values for every story published.