Teaching intelligent design is bad science, according to critics of science standards that are expected to be approved this week by the State Board of Education.
But it's good politics, according to a poll conducted for the Journal-World and 6News.
The Education Board, which has a 6-4 conservative majority in favor of standards that question evolution, is expected to give them final approval Tuesday in Topeka, capping a months-long battle that has drawn international attention.
Earlier released poll results showed that two-thirds of Kansans say evolution should be taught in public schools and that there is no conflict in believing in God and the scientific theory of the origins of life.
But the statewide survey also shows support for teaching intelligent design, the notion that life's complexity points toward a creator or designer.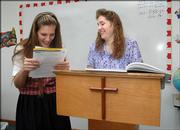 Fifty-three percent of Kansans say they know what intelligent design is, and 54 percent of that group says it should be taught in school, according to the poll. Thirty-six percent says intelligent design shouldn't be taught, while 10 percent were unsure or refused to answer.
A breakdown of the results concerning intelligent design shows more Kansans in eight of the 10 Education Board districts favor the teaching of intelligent design, while two districts show resistance.
The highest support is 75 percent in western Kansas, represented by Connie Morris, a Republican from St. Francis.
Evolution poll: Kansas by the numbers
Evolution poll: Kansas by the numbers
However, more people in District 4, which includes Lawrence, and is represented by Bill Wagnon, a Democrat from Topeka, believe intelligent design should not be taught. The same is true in District 2, which is represented by Republican Sue Gamble of Shawnee.
Why is there such acceptance of intelligent design, a scientifically unprovable idea?
Many supporters of evolution say it is because, most people if told there is a controversy believe it is fairer to have both sides presented.
In Lawrence, Mary Bottrell and Maggie Backus represent opposite sides of the argument.
Bottrell, an English teacher at Heritage Baptist School, said intelligent design should be taught in science class.
"There are several things that can't be proven by science," Bottrell said.
Bottrell said she believed in the biblical account of creation in Genesis.
"Any step toward teaching about creation is a step in the right direction," she said.
But Backus, a database administrator, said while she believed in God, she believed that intelligent design was "thinly veiled creationism theory" and shouldn't be taught in public schools.
If creationism is brought into the public classroom, she said, then other creationist stories must be presented.
Photo Gallery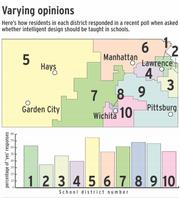 Poll results
Backus said she was a strong believer in keeping religion and government separate.
"Look around the world. In many societies, the mixture of religion and government has caused many problems," she said.
Gov. Kathleen Sebelius, a Democrat, at a speech last week noted four State Board of Education races next year will feature conservative Republican incumbents who have pushed for criticisms of evolution in science standards.
"I frankly would like some board members who paid attention to education in Kansas. That would be good to have a partnership moving ahead in that area," Sebelius said at the Kansas AFL-CIO Convention in Topeka.
The four conservatives up for re-election are Connie Morris of St. Francis, Iris Van Meter of Thayer, John Bacon of Olathe, and Ken Willard of Hutchinson. Democrat Janet Waugh of Kansas City also faces re-election.
Board agenda
The State Board of Education will meet Tuesday at the Kansas Department of Education, 120 SE 10th Ave., Topeka.
The board will conduct an open forum from 10:30 a.m. to 11 a.m. and is scheduled to consider the science standards at 2:55 p.m.
Copyright 2018 The Lawrence Journal-World. All rights reserved. This material may not be published, broadcast, rewritten or redistributed. We strive to uphold our values for every story published.