Brussels, Belgium — The European Commission said Friday it would encourage governments in Eastern Europe to comment on allegations that the CIA set up secret prisons in the region to interrogate al-Qaida suspects.
Polish authorities denied any knowledge of prisoner transfers, but - in a piece of information that raises questions as much as it sheds light - confirmed Friday that a plane carrying Americans touched down at a little-used airport on the very day a human rights group claims flight logs indicate a CIA aircraft landed there.
In Romania, officials gave The Associated Press computerized flight logs in an attempt to disprove claims of suspicious flights landing at an airport near a military base.
The broader allegations, first reported in The Washington Post, have also triggered a flurry of denials from other governments in the former Soviet bloc and prompted European Union officials, the continent's top human rights organization and the international Red Cross to say they would investigate. U.S. officials have refused to confirm or deny the claims.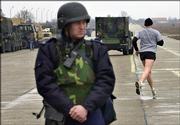 "It is obvious we'll take the statements of those countries for true," said Friso Roscam Abbing, a European Union spokesman. "Only if we receive evidence which would prove the contrary will we decide what possible next steps to take in terms of contacting authorities."
Roscam Abbing said the European Commission - the EU's executive office - would seek statements from governments that have not denied the existence of secret prisons on their territories to comment on the issue "if only to get as much clarity and transparency as possible." Such prisons, European officials say, would violate the continent's human rights principles.
The commission said it would make an informal inquiry, requesting answers from all 25 member governments as well as EU candidates Romania, Bulgaria, Croatia and Turkey.
Human Rights Watch said Thursday it has evidence, based on tail numbers and flight logs of CIA aircraft from 2001 to 2004, that indicate the CIA transported suspects captured in Afghanistan to Poland and Romania.
Copyright 2018 The Associated Press. All rights reserved. This material may not be published, broadcast, rewritten or redistributed. We strive to uphold our values for every story published.