Atlantic City, N.J. — Merck & Co. won its first court battle over its Vioxx painkiller Thursday when a New Jersey state jury found that the drugmaker properly warned consumers about the risks of the medication. The verdict absolved Merck of liability for a heart attack suffered by a Vioxx user.
After deliberating for less than eight hours over three days, the jury cleared the nation's No. 5 pharmaceutical company of allegations it failed to warn consumers about the drug's risks and engaged in "unconscionable commercial practices" in marketing it to doctors and their patients.
The verdict was Merck's first win out of two Vioxx-related trials. In August, a Texas jury found the company liable in a Vioxx user's death. Merck is appealing that ruling yet still faces about 7,000 lawsuits over Vioxx, which it voluntarily pulled off the market last year because of links to heart attacks and strokes after 18 months' use.
Much of the seven-week New Jersey trial, eagerly watched by lawyers and plaintiffs from around the country, relied on the testimony of medical experts. Witnesses for Merck testified the company believed Vioxx was safe for the heart before the drug was pulled from the market in response to a study that showed it doubled risk of heart attacks and strokes when taken for at least 18 months.
Thursday's verdict means it might take several more cases, including a federal case that will start Nov. 28 in Houston, before lawyers can find any sort of precedent that might determine Merck's ultimate Vioxx liability.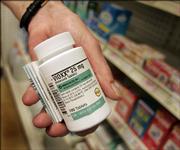 Merck was clearly elated by its victory.
"We feel very much vindicated," Merck general counsel Kenneth Frazier said. "The jury found in our favor, we believe, because the evidence showed that Merck acted responsibly."
Frazier said Merck will fight each lawsuit individually, adding that mass settlements aren't appropriate because facts in each case differ.
"There's an awful lot at stake, not just for Merck," but for the pharmaceutical industry and patients, he said, claiming floods of lawsuits can discourage scientific research and keep needed drugs off the market.
Merck's stock rose $1.07, or 3.8 percent, to $29.48 after the verdict. More than 32 million shares changed hands in barely two hours on the New York Stock Exchange - about four times the stock's normal daily volume.
Wall Street analysts said the company clearly would face huge legal costs given its plan to fight each lawsuit. The company has set aside just $675 million for legal defense costs, but nothing for jury awards or settlements.
"It's still going to be a marathon" in the courts, said Barbara Ryan, pharmaceuticals analyst at Deutsche Bank North America.
About 20 million Americans took Vioxx after it hit the market, embracing it for its effectiveness in relieving pain while sparing them the upset stomachs, ulcers and other gastric problems associated with some other analgesics. At its peak, Vioxx was a $2.5 billion-a-year blockbuster.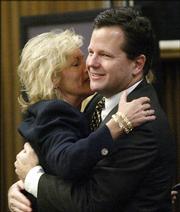 Thursday's verdict capped a bitterly fought, seven-week trial in which Merck insisted that Frederick "Mike" Humeston - who took Vioxx for about two months for knee pain - had not been using it long enough to be at risk.
The company's lawyers used expert cardiologists, Merck scientists and data from clinical studies to convince jurors that Vioxx couldn't have caused the 60-year-old Boise, Idaho, man's heart attack.
They also succeeded in pushing the blame onto Humeston, using his own medical records to show he was at risk for heart disease because of high blood pressure, too much weight and stress over a dispute with his U.S. Postal Service superiors.
Juror Vickie Heintz, 40, of Mays Landing, agreed with that assessment.
"I thought he had way too many other health issues," Heintz said. "His medical records were riddled with many medicines."
Humeston's lawyers said Merck intentionally concealed data showing the drug's risks, rushing it to market in 1999 in hopes of beating rival Celebrex. Chris Seeger, his lead counsel, acknowledged after the verdict Thursday that his case may have been weakened because the 60-year-old outdoorsman took the drug for such a short time - and he survived.
"The first trial was a death case, and death cases generate more emotion," said Seeger, who criticized Merck for making an issue at the trial of Humeston's work record and health.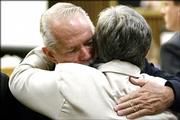 Only one juror- casino worker Juan Garcia, of Atlantic City - thought Merck failed to give adequate warnings about Vioxx's risks.
"I think they should have known and explained more to the doctors and everyone," said Garcia, who said he believed Vioxx had a role in Humeston's heart attack.
Humeston showed no emotion when the verdict was announced but said later he hoped it wouldn't discourage others who have filed suits.
"The question remains today for the American consumer: What is Merck doing to take care of those people they themselves know for certain that they harmed?" Humeston said afterward.
During the trial, Merck repeatedly reminded jurors that the U.S. Food and Drug Administration had approved Vioxx as safe and effective on four occasions for use against different types of pain, the last a month before Merck recalled it.
In the Texas case, the victim was a Wal-Mart produce manager who died after taking Vioxx; his widow was the plaintiff. The jury awarded $253 million in damages, but the award will be cut to about one-tenth of that amount due to the state's caps on punitive damages.
Copyright 2018 The Associated Press. All rights reserved. This material may not be published, broadcast, rewritten or redistributed. We strive to uphold our values for every story published.